We're delighted and very happy that on a national level there is now serious attention and dedicated resources for startups and early stage companies.

The new StartupDelta initiative announced on Monday (8th November) has the potential to be an important catalyst, showcasing this part of the "West Coast" of Europe as bursting with fresh, validated ideas. Many startups are now reaching a point where they know they need to scale globally in order to become the industry leaders of tomorrow. Having the backing from a passionate ambassador as Neelie Kroes is very good news – she's someone who's always focused on cutting through the red tape that's often slowed innovation on this continent.

StartupDelta is not re-inventing the wheel. The founders acknowledge the pioneering work already being done with start-ups at several hubs across the country.
Born Global is the winning strategy
Of course, there is always friendly competition between cities, universities and research institutions. In fact it's the same story in any country busy with building its future.
I believe that competitive spirit is healthy. However, we need to remember that from across the Atlantic or from an East Asian perspective, it's natural for others to see the entire country as one giant "test lab for innovation".
All this should not distract us from the perhaps the most important lesson learned.

Today's young companies need to be "born global or be doomed to fail locally", to paraphrase the American start-up guru, Professor Steve Blank.
These teams think globally from day one, working out what they need to validate nationally in the Netherlands, but also building an early path towards foreign investors.

As we've witnessed just last week at High Tech Campus Eindhoven, important, influential foreign business alliances are just as likely to be signed in Beijing as they are in Boston or San Francisco.
The Netherlands has always been a great place to test and validate ideas. It is 17 million people living in a compact space, one quarter the size of New York State. We're highly interconnected. And because we've always been a trading nation, we've prospered by doing international business, building networks and organising supply chains. Understanding customers' needs has to be the core part of our national strategy. Because it's key to being influential.

However, I think it's only in recent years we've come to appreciate the true value of all these diverse networks and initiatives.
I hope that StartupDelta succeeds in building on top of these foundations by "standing on the shoulders of giants" and interconnecting these complimentary networks. Please let them flourish, blossom and breathe!
The Challenges Ahead
As a nation, we need to be in a much better position to find, attract and hire the best talent in the world. Because successful companies always build entire ecosystems around them. And that, in turn, encourages fresh waves of talent and technology to establish their roots in the Netherlands.

No country has a monopoly on a supply of good ideas. That's actually not difficult. But executing those ideas, validating markets, finding the right funding and scaling up at the right pace – that's the hard part. Yet, it's an effort that's starting to bear real fruit. I believe more are just around the corner.

There's mounting evidence that the really cool innovations are triggered by interactions at the edge. The same applies to this new national initiative. We see Eindhoven nestled at the edge of Holland's metropolitan capital of Amsterdam.
Together with our colleagues in Enschede, Maastricht, Delft, Rotterdam and Groningen – we all add essential elements and expertise to the contours of StartupDelta.
Which makes me confident it's going to be a surprisingly successful New Year for all the startups born and raised anywhere on fertile Dutch soil.

Onward!
This blog post originally appeared on the High Tech Campus website
About the author: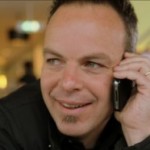 Bert-Jan Woertman is an enthusiastic networker, creative communicator and new business developer. He is a member of the Management Team of High Tech Campus Eindhoven. He has built an extensive, active international network that connects high-tech entrepreneurs, business leaders, creative industries, academic and public sectors. He is responsible for New Business Development as well as Marketing & Communications.  Bert-Jan is also actively involved in building the accelerator for high-tech startups, Startupbootcamp HightechXL
Image credits: Dennis Jarvis