The most remarkable lesson from last Friday's demo day of Startupbootcamp's E&M commerce program is the increased strength of the Dutch startup ecosystem. Not only the startups are getting better but there is also more and more visible support from corporates and an large amount of funding already raised by the startups. An impressive result that is hopefully continued on other demo days this year.
The formula of an accelerator program is simple: try to attract and select a class of around 10 startups, take a small equity stake (8%) in each startup, provide them with the best training and mentoring over a period of 100 days, and bring them to the spotlight of investors and customers in a big demo day event at the end of the 100 day period. Startupbootcamp has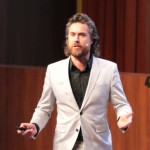 been doing this since 2010 and each year they are running more accelerators in more cities. "We are are on a mission to make the world a more innovative place, one ecosystem at the time" said Startupbootcamp founder Patrick de Zeeuw on stage. Startupbootcamp has indeed changed into a whole family of accelerators, from Copenhagen to London to Singapore to South Africa. The Amsterdam program only change a little: from one program for all types of startups, it now has two so-called 'vertical' programs: one only for smart city & living startups, and this program for E-commerce and mobile commerce startups.
Demo days are usually not very surprising: everyone knows which startups will be presenting and the presentations are usually very good since all the startups have practiced for one hundred days on this pitch. The new information is often in the detailed announcements from each startup, and the speakers surrounding the startup pitches. To start with the surrounding keynote speakers: Satrtupbootcamp has chosen two 'technical' keynote speakes for this program, each with a story that is also of interest to the startups.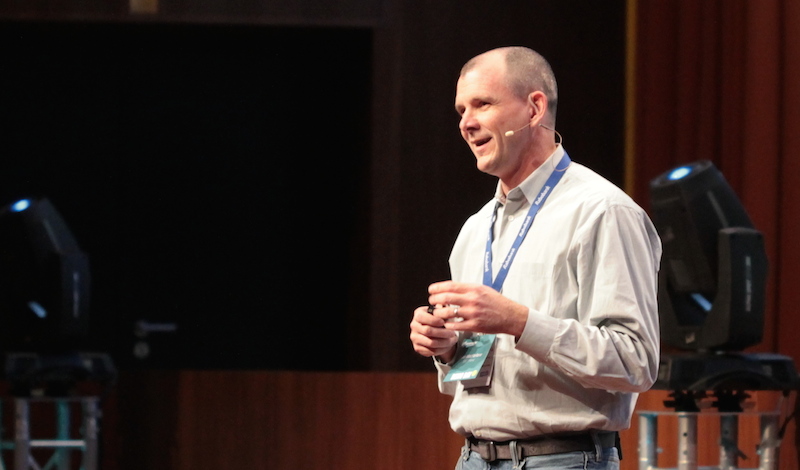 John MacFarlane, CTO of Sonos, kicked off with his experience as an entrepreneur. He was one of the first dotcom millionaires, after founding software.com in 1992. "It made me so rich that I literally had everything, except time and perspective". He decided to leave this lifestyle behind and start again building a company. He sat together with a small team of founders to start a new company. The starting point for the company was a clean sheet of paper and a goal: "let's change the way people listen to music". Shortly afterwards they came up with the name Sonos,, which is now market leader is wireless sound systems. John had several messages for the audience:
Culture is important. Each company that you found has a culture, and what kind of culture it is depends on the choices of the founders in the first years: do you fire people when the market disappoints? How do you treat your employees. John believes that the righ culture is an important success factor for tech companies. He specifically mentioned the difference between a renters and an owners culture: you want people that treat the company as if they own it for the long term, not people that are just using it for a few years.
Listen to advice. As a founder you need to be open to advice. "If you can't hear the advice, you can't ignore it" he jokingly said: too many founders are too busy to even hear warning signals. Stop, listen to what the people around you have to say and then make your own decision.
The Netherlands is a good place to start a company. Software.com's first European headquarters was in Naarden, and Sonos Europe BV is still in that area in Hilversum.
The second speaker is Cees Links, the Dutch inventor of WiFi and currently the CEO of Greenpeak, a chip designing company in the heart of Utrecht. Cees Links is not often in the spotlight and has been called "the most unknown important Dutchman". He is a great example of how perseverance is important to build a great product. "Around the time wifi was invented everyone had these cordless phones, and everyone told me this technology could not be used for data transfer for many reasons. I decided to try it anyway".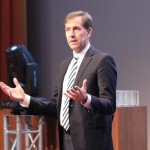 The two other speakers on this demo day were CEO Wiebe Draijer from the Rabobank, host to demo day, and Startup envoy Neelie Kroes. Wiebe Draijer emphasized the importance for corporates to innovate, but also how difficult it is in a corporate environment. This is why Rabobank want to work with startups and has indeed acted as a launching customer for many of the startups below.
Neelie Kroes also made a brief appearance and basically told the audience that StartupDelta is "at your service" for the Dutch startup ecosystem. She and her team are looking forward to hear from the community what changes are needed in the short term and longer term. For the longer term she and interviewer Patrick de Zeeuw expect changes in education: children need to learn both programming and entrepreneurship.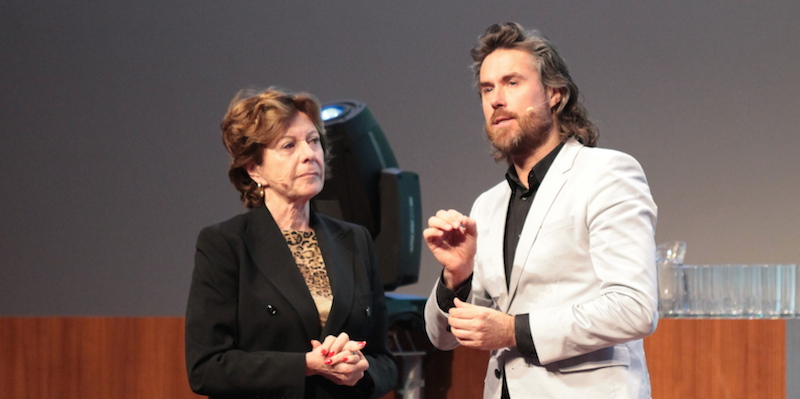 The main focus of the program was on ten startup pitches, described below:
Yippie
Yippie aims to change the way prize comparison works. Instead of offering price comparisons on a separate website, they offer a browser plug-in that shows prizes on the same page immediately. This saves that buyer a few seconds but more importantly it means that visitors do not have to leave the store before buying anything. On demoday Yippie revealed their next step: they have made a deal where Yippie can make"Personalized offerings" to all users. They are starting as of this week with Mediamarkt as launching customer.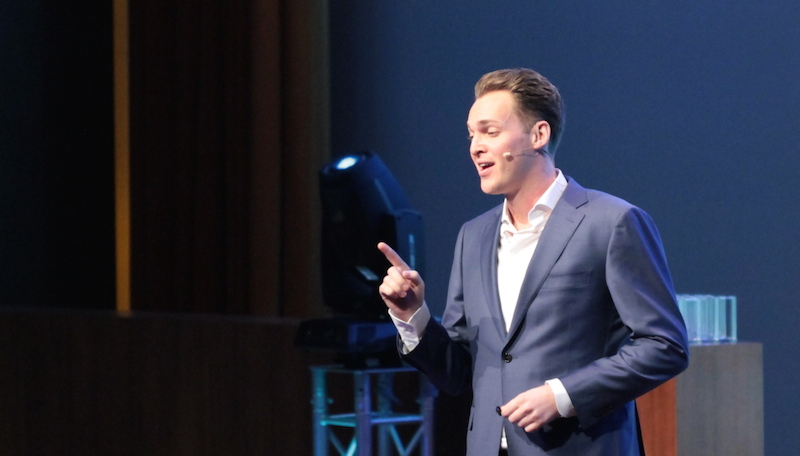 Magnetic.io
As Wiebe Draijer indicated in his speech, many corporates are struggling to innovate fast and often. This is partially caused by legacy IT systems that are not built for frequent changes. Magnetic.io has built a container based software architecture that will help companies: by packaging software components in containers, it becomes possible to gradually add lego blocks and switch groups of users without disrupting the service. Magnetic was proud to announce that Rabobank has indeed signed up to start using their new platform for their mobile banking.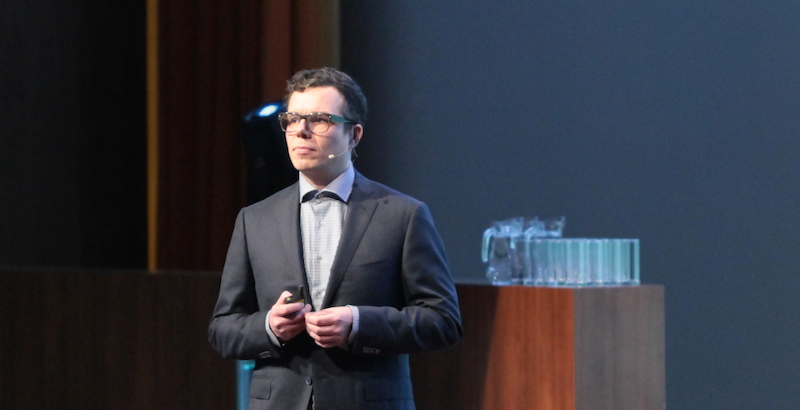 Joopp
The founder of Joopp both have fathers that are small/medium business owners and they have therefore experienced firsthand that these business owners struggle with keeping their website up to date. With Joopp they hope to solve this problem once and for all: the Joopp service can build a website in seconds by using the information already available on the web, for instance on facebook, twitter and review websites. On stage they announced a partnership with werkspot.nl, a large community of independent professionals.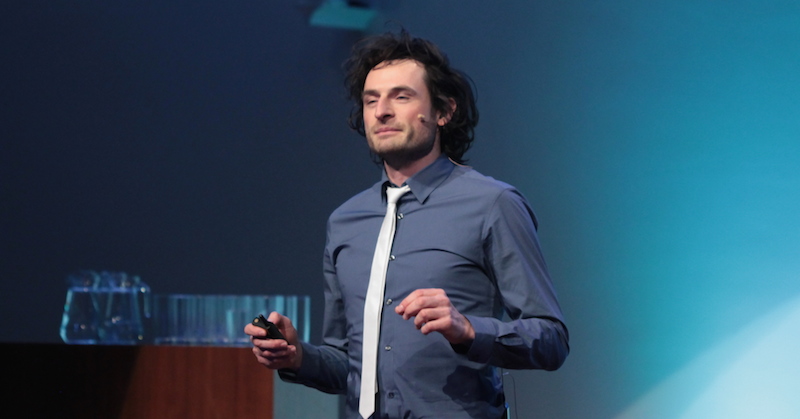 Relevancydata
Relevancydata is using video recognition technology to make adds more relevant for users. Basically they recognize what celebrities, brands and logos are used in a video, and make sure that all adds shown are indeed suitable.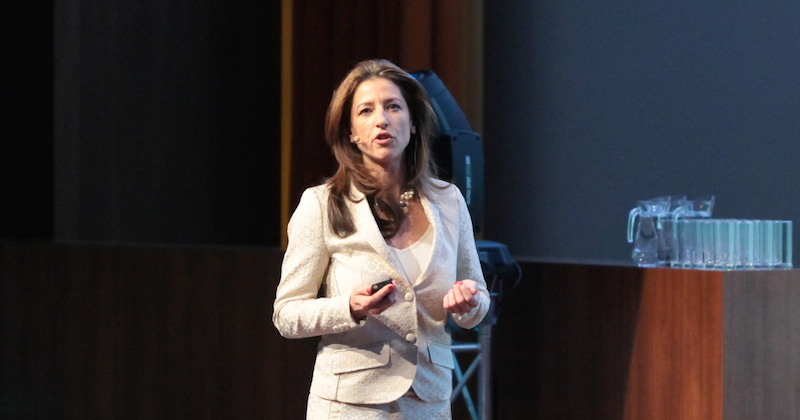 Quiver
Quiver is a platform that secures documents, making hem only accessible to people that should have access. Their claim to fame is that they are the only platform combining all relevant access: location, timebox and identity. Quiver has grown surprisingly fast during the program: they have already raised € 1 million, and are expecting to raise € 20 million in the next step.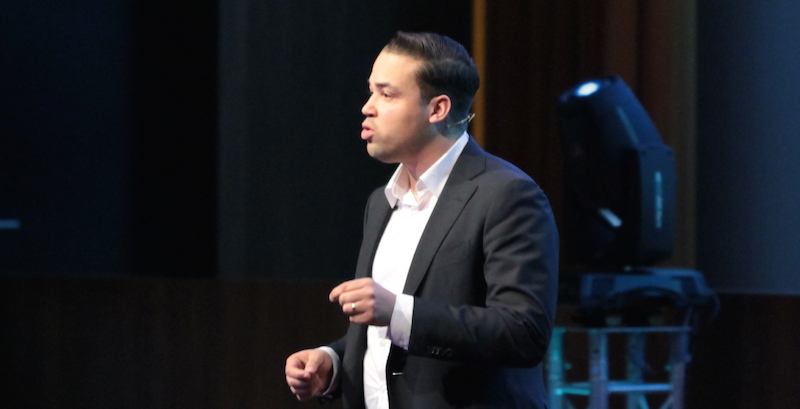 Tom Kabinet
Tom Kabinet is the first trade platform for second hand ebooks: they allow buyers of e-books to re-sell their e-books once finished. This startup has gotten a lot of free publicity out of two lawsuits from book publishers, who claim that e-books cannot be resold. For now, Tom Kabinet has scored a partial victory: e-books can be resold as long as Tom Kabinet can ensure the books were bought legally. On demoday Tom Kabinet announced the next step in e-book use: in Q3 they will launch an all-you-can read model for only € 5 euros per month. An exciting proposition, hopefully they can make it happen without too many commercial and legal obstacles.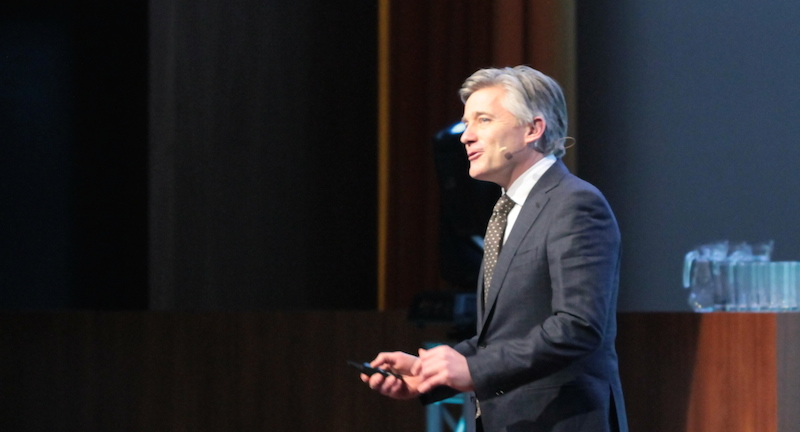 Printr
Before demo-day, this author was not particularly excited about Printr. This 3D printing startup does not make 3D printers themselves, but only delivers software to make printing easier. Luckily the pitch made it clear what their added value is: they make an operating system that translates a highlevel object design into detailed printing instructions, preventing failed prints. On stage they revealed a dual strategy: they have signed up six printer manufacturers as customers who will include the software in their printers. For existing printers, they are launching a separate device that controls the printer. On demoday they revealed that their software will be used to print the parts for Elon Musk's ambitious hyperloop project: the selected manufacturer for the hyperloop, nectar, is one of the six manufacturers that uses Printr software.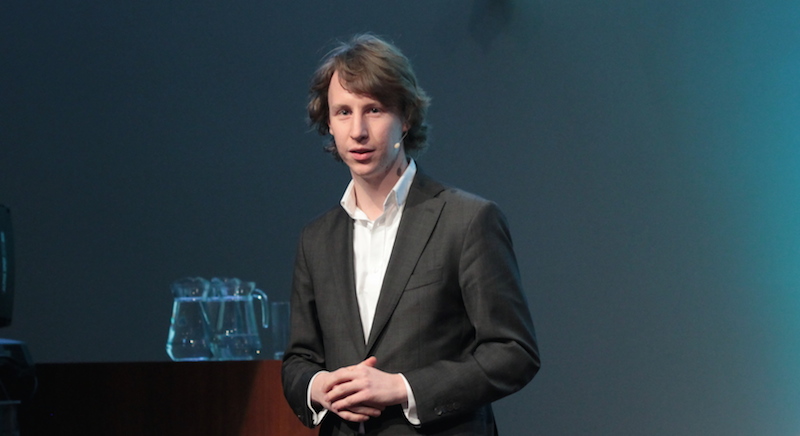 Eccentrade
Eccentrade solves a problem for manufacturers: how to find the right components for building devices. When Eccentrade was admitted into Startupbootcamp their story was mostly about green components. During the program they realized that the problem they are solving is actually bigger: they offer companies like Samsung, Apple and other manufacturers the information they need to select the right components, with the right quality, at the right price., with all the necessary 'green' paperwork.
Saddl / Hello Spencer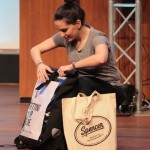 Saddl was founded in 2013 in order to create a platform making immediate delivery possible for any order: what is possible for food should also be possible for non-food, is the vision of the founders. Saddl has struggled in the past to find the right angle of approach for launching the service. In Lean terms, they have made a few pivots to find a service that customers want. On stage they launched a new name: "hellospencer.co". To show what the service does, they actually made a deliver during demo day: on screen they showed how an iPad was brought from the shop to the actual demo day location.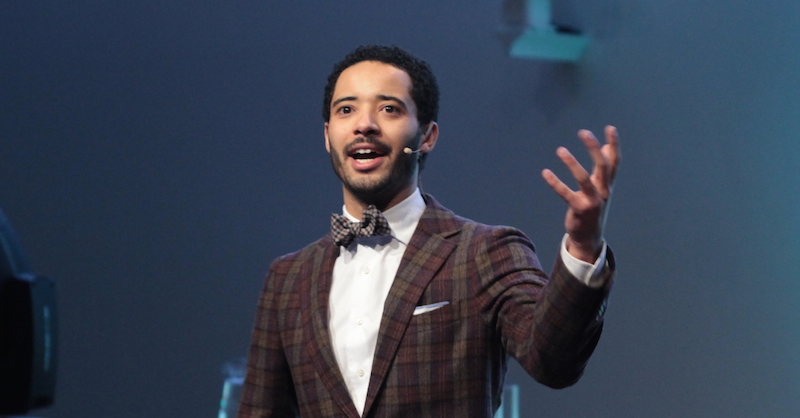 Startmonday
Startmonday is cofounded by Ray Gibson, a former recruitment manager who admitted that he must have read at least 500.000 CVs in his life. Startmonday uses this to radically change the recruitment process. Candidates use an app to search for jobs. Once they find one, they can apply by making a small video explaining why they are the right candidate. Employers see and hear the candidate's personality and motivation and can immediately call back. Startmonday proudly announced that this month, they are sending the first actual invoices to customers: an important step for any startup, and also a good step back to reality on this demo day: in the end, startup success is about validation from paying customers, not approval from investors.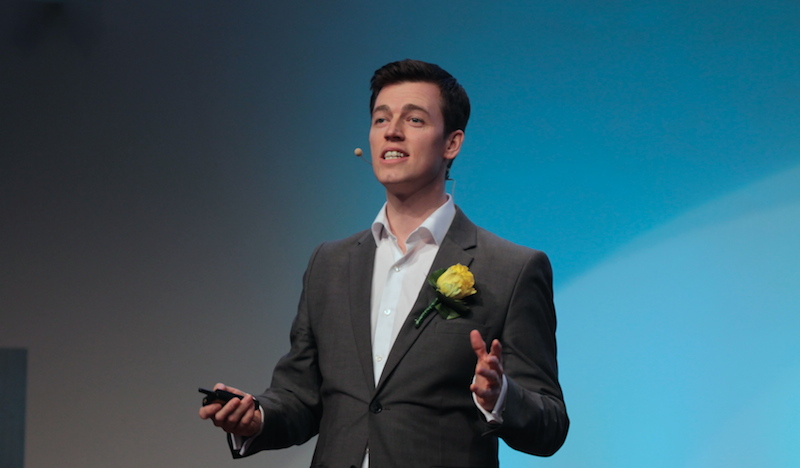 Photo's: Author/StartupJuncture & Startupbootcamp