Energy company Eneco is slowly embracing open innovation and inviting other to develops apps with their smart thermostat. To help developers get started, they are organizing an open hackathon march 6th to 8th in B. Amsterdam.
Many companies are working on smarter home appliances. Google joined the list when they bought Nest in 2014, Thermosmart launched their own smart thermostat at De Bijenkorf and several Internet of Things startups like Relayr and 30Mhz are building wireless communication protocols with home automation in mind. All these companies believe that better data and more detailed control can be used to give people more control, raise comfort and lower energy use.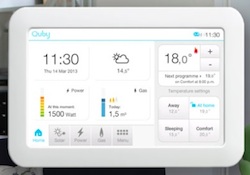 Energy company Eneco has also been active in this market since 2012, when Eneco and developer Quby  launched the Toon thermostat. The TOON systems measures temperature, controls the heating and can communicate via the Internet with apps and other services. Eneco has decided last year that they want to open up Toon as a platform for third party developers: developers that believe they can either make better apps with the current information, or that want to develop new services by combining heating with other services (weather, bank account balance, stock market, political news, etc) will get access to the Toon APIs.
Developers interested in participating can join a hackathon event, that will take place from Friday March 6th until Sunday March 8th. During the hackathon teams can build their app and the best apps will be rewarded with cash prizes (€ 3500, -, € 2500,-, € 1500,-) and coaching sessions with Startupbootcamp and Eneco staff. The full program is available on the Toon open website, registering can be done via the Appsterdam meetup. The event takes place in B. Amsterdam, the recently opened new startup hotspot of Amsterdam.
No information has been released about next steps after the hackathon, or options to launch successful apps commercially. The website does make the promise that everyone remains owner of their code and ideas. Hopefully Eneco will also take next steps to help teams move from prototypes to actual business.
Image credit: Damn_unique