After receiving 550.000 euro in seed funding, sharing economy startup for little jobs Jobado officially launched yesterday, February 16th.
Roll out and expansion
After eighteen months of testing, Amsterdam startup Jobado, founded by Melvin Bostelaar, Laurens Westerhuis and Tijmen Crone, officially launched. At the same time Jobado announced it raised 550.000 euro from angel investors so far in 2015. The money will be used to roll out and expand Jobado in The Netherlands, Belgium and France.
Co-founder and CEO Melvin Bostelaar explains: "Jobado is part of a movement of initiatives that strive towards a sharing economy: the app uncovers untapped potential in your neighborhood. We expect to have full coverage in The Netherlands within six months, and simultaneously start expanding in Antwerp and Paris."
I do, I do, so you don't have to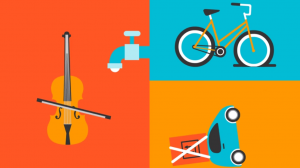 Jobado's motto is "I do, I do, so you don't have to". Do you have a task to be done? It doesn't matter if it's fixing your car, learning to play the guitar, moving from one place to the other, or getting to grips with a certain piece of software, someone may be willing to do it for you on Jobado. Are you willing to do tasks for other people, while earning some money along the way? Then Jobado is the right place as well.
People who are doing tasks for other people are called 'Jobs'. Security is important: every 'Job' is screened beforehand and payment occurs after the task has been completed satisfactory. Speaking about payment, the 'Job' (the person who did the task) earns 80 percent of the payment, while Jobado gets 20 percent.
Moreover, Jobado actively supports people to fill out their tax forms correctly, so completing tasks can be a way to earn extra income.
Jobado apps for Android and iOS
Together with the website, Jobado released apps for Android and iOS simultaneously.
And here's a cool animation that explains Jobado:

Images by Jobado