The Polar Bear pitch challenge in Oulu Finland is one of the hardest pitch contests in the world: pitchers stand in freezing water in a frozen river during their pitch! The pitch contest was won by Startupbootcamp Amsterdam alumnus Relevancydata.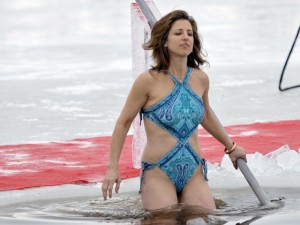 One of the hardest decisions as a pitch event organizer is timing: on the one hand you want to give every pitch the time it needs, on the other hand you want to be sure each pitch remains short and succinct. In Finland they have found a solution for this dilemma, inspired by their tradition of ice holes: each founder pitches while standing inside a hole in the floating river sauna in the Oulujoki river. This provides a natural incentive to keep it brief.
The first Polar Bear Pitching took place in February 2014, and this week the second edition took place last Thursday. Polar Bear Pitching can be seen as a pre-event for the big startup summer event Midnight Pitch Fest. Both of these events are productions of the non-profit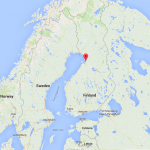 organization Midnight Pitch Fest Ry. The idea of the organisation is to hand-pick the most viable startups. Local universities and business schools, incubators, business blenders and city's business development team are all working together in the spirit of making it happen regardless of the arctic challenges. Oulu is one of the most northern cities of Europe (600 kilometres north of Finland capital Helsinki) but that is not stopping the local community from supporting their startups.
This years edition was bigger and more international than last: participants came from Norway, Sweden, UK, Estonia, Israel, Holland and India as well as from Finland. The best three startups were awarded with prizes and extra attention from investor companies in the jury.
Relevancydata
Overall winner was Relevancydata, whose founder Michal Hubschmann was brave enough to step on the ice and into the water. She and her team are using video recognition technology (originally developed in Israel) to place more relevant ads next to and in front of videos. Relevancy data came to The Netherlands last year, as participants in the Startupbootcamp E&M-commerce programme Amsterdam.
Check out this chilling video of the winning pitch!
Runners up were SportID and Tinitell. SportID is an online fitness management tool for companies from Estonia. Tinitell, from Sweden, is a wristwatch for kids. Tinitell was funded last year on Kickstarter, raising 141.000 dollar and is now working on production of their watch.
Dutch startups wanting to brave the ice will have to wait for another year. They are however welcome to apply for the summer Midnight pitch event. The the selection starts in April/May, and the applications have to be sent via the organization website. We asked the organization what startups should do in order to win: "interesting cases with scalable and international business models are favoured both by our audiences and investors", said organizer Sari Päivärinta. Something that Relevancydata is good at, having been successful in Israel, The Netherlands and Finland.

Photo's by Polar Bear pitch challenge