Accelerator-network Startupbootcamp announced yesterday the startups for their new Smart City and Living program. Suprisingly not ten but eleven startups were selected: four from Netherlands, seven from France, Germany, Switzerland, Slovenia, Finland, Spain and Israel.
The accelerator landscape in The Netherlands is growing up: a few years ago the news was that there are local acccelerators and that startups can grow in The Netherlands. Nowadays we take it for granted that both Rockstart and Startupbootcamp are running multiple successful programs and are able to attract high profile startups. The interesting part about the new class announcements is specialization. Startupbootcamp no longer has a 'Vanilla Amsterdam' program. The normal Amsterdam program from last year has been replaced with a new vertical program. Startupbootcamp is now only selecting thematic classes for their accelerators: high-tech in Eindhoven (just completed with a demo day), E&M commerce in the fall (just completed with a demo day) and now Smart City and Living. The accelerator focuses on all technology related to smart home, internet of things and smart living. After two selection days, with 19 startups pitching, they surprised everyone by selecting not 10 but 11 startups.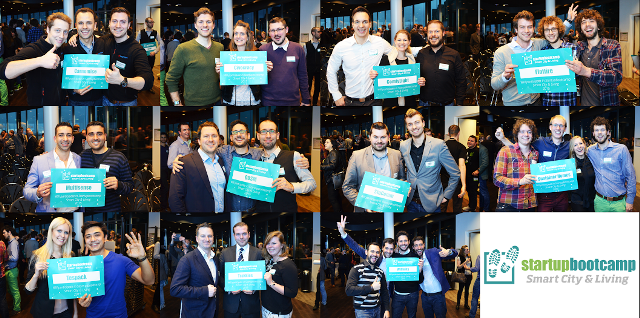 Carnomise (France): Peer-to-peer car rental allowing vehicle owners to save and make money while they travel and give tourists more economical vehicle rental options while they travel. Carnomise was launched in Paris where it works with all major airports. So far it has serviced 14.000 car rental days.
Civocracy (Germany): An online network connecting citizens to discuss and take action on political and social issues. Civocracy will launch its service with several non-profit organizations and municipalities across Europe in March.
ComfyLight (Switzerland): Instant, elegant smart home security and lighting solution for every home. Offers an IoT solution that combines lighting and security for home owners. ComfyLight is currently part of the Bosch IoT lab in Switzerland, recently received €100.000 in prize money and has members of the well-known Porsche family on its advisory board.
OOSM (Slovenia): A cost effective and easy to use digital signage and campaign management system, transforming digital screens and enhancing customer or user experiences. OOSM currently serves multiple clients in the telco and public transportation sector in Slovenia.
Tespack: (Finland)Tespack provides the next generation wearable technology in Tech Fashion. Tespack solves recharging and energy problems while on the move. Tespack closed over €60.000 in sales in the last few months in the Finnish market and recently closed partnerships with Microsoft, Intersport and Amazon Germany.
Wiffinity (Spain): A POP SaaS platform that connects brick & mortar businesses with their customers using WIFI connectivity and push messaging campaigns to assure brand experience on the go. Wiffinity recently closed a pilot agreement to launch its solution at 1.500 point of sales locations.
Multisense (Israel): A unique platform for user identification and security purposes in a smart city environment. Multisense currently runs its 1st pilots at City Bank in the USA and in Israel.
Flattire (The Netherlands): An integrated platform for bike users and bike repair shops to solve bike repairs within 15 minutes when problems strikes bicycle owners. Flattire was launched in Amsterdam a few months ago, is already profitable and aims to expand its services to several other Dutch and European "bike oriented cities" in the next few months.
Stucomm (The Netherlands): A service provider that makes the communication between educational institutions and students more effective and efficient. Stucomm launched 6 months ago and is currently servicing over 15.000 users. Stucomm was listed as a 'smart working' startup: the startups is not doing anything with energy or IoT, but apparently impressed the jury enough to be selected anyway. Another success for incubator UtrechtInc.
Sustainer Homes (The Netherlands): Production and design of off-grid (no connections to gas, water or light network needed) mobile homes by merging modular housing with state-of-the-art technology and design. Sustainer homes expect to be able to place its 1st off-grid mobile homes in Amsterdam before the summer.
Trakkies (Netherlands): Part of the ESA incubation centre is redesigning the human experience through products and technology aimed to establish a seamless relationship between people, places and objects. Trakkies will launch its soft and hardware solution worldwide in the next few months.
The demo day of this program will take place in July: the startups will use the next two weeks to relocate to Amsterdam, and will then participate in a 100-day program where they validate their business model, strengthen their product offering and practice their investor pitch. If past results are any guide, most startups will receive additional funding from venture capitalists before or on demo day.

Photo's: Startupbootcamp