Baggage tracking startup FastTrack received 1,1 million euro from a group of informal investors. This marks the second large investment round for the company.

FastTrack was founded in 2012 by David van Hoytema and Graham Kelly and is based in Amsterdam and London. FastTrack has partnered up with Air France-KLM, Schiphol Airport, Samsonite and Dutch telecom provider KPN. Last year, FastTrack already received 1,5 million euro in seed funding from Mainport Innovation Fund, while also winning two Accenture Innovation awards.
This time, 1,1 million euro was invested by a group of informal investors. The investment will be used for product development and further market penetration. Potential customers are frequent flyers, but also employees of companies who ship valuable goods while travelling internationally.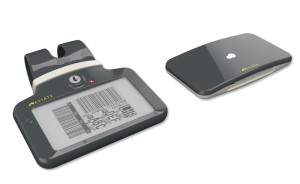 FastTrack wants to reduce the stress that comes with travelling with baggage. The company is developing the Eviate eTrack, which lets you track the whereabouts of your suitcase using your mobile phone. The eTrack is placed inside a suitcase and sends out a signal to let you know its exact location. It even informs you when the suitcase is opened. The eTrack communicates with your mobile phone using GSM networks and futures an Auto Flight Mode to comply with airline regulations. The means that the device essentially switches off during flight, which also saves battery power.
Internet of Things
FastTrack claims that the eTrack is the only tracking device that meets all international air travel regulations and that is linked to the world wide travel infrastructure. "Not only you will know that your bag is located in the Lost&Found depot in Paris, the person behind the desk sees the same information".
Also in development is the eTag, a device that is placed on the outside of your suitcase. The eTag functions as an electronic baggage label and displays destination bar codes, generated by airlines. The eTag is the first device of its kind and allows you to check in at home.
Using the eTrack and eTag, your bag effectively becomes part of the internet of things. The eTrack is expected to be available in August, the eTag later this year.

Image credit: FastTrack