Nestpick, the 'Airbnb for international students', has grown at an immensely fast pace since its foundation in April 2014. After a successful start, a takeover by German 'startup factory' Rocket Internet in December set the right conditions for further growth. Founder Fabian Dudek, only 22 years old, nowadays leads a company of 150 employees active in 29 cities. We talked to him about his experiences and what it means to run a big business at that age.
What does it mean for you personally that nestpick has grown so quickly in one year? I can imagine that it is overwhelming at times, isn't it?
"For me, the thought of building something small never existed. It was always clear that I wanted to work on a serious, global problem. In those terms, what happened last year is amazing. There are new challenges just around the corner all the time. I realize how I become better, but I also realize how the problems become more complicated. I think I couldn't have taken any other path that would have allowed me to develop as quickly as I do right now."
The biggest differences are made by the teams
"There is a saying: 'Great people start companies and amazing people scale companies.' I do see a big difference between the two phases. I started with a small team of highly motivated, passionate people. To spread that kind of culture to a team of 150 people is an enormous challenge. It is extremely important, though. In the end, if you compare two companies, the biggest differences are made by the teams. How well are employees connected? How many values do they share? My challenge is to make sure that those 150 people, when they go to sleep, feel proud of what they have done that day."
At your age, do you feel ready for this job?
"I think it is not without reason that I am in this position right now. I am not a guy who inherited a lot of money, I started with one e-mail address. However, it is about the potential skills that you have. If you know that and have trust in yourself, you know you will be able to deal with problems in the future. I don't feel a pressure to lead the company, it's fun. As long as you're proud of what you're doing, it feels very natural. Like I said, I would like the employees to be proud of their work too. I believe that customers will feel that. They will be happier because they understand what our motivation is."
It is impossible to do major things in life without upsetting some people
What is the best advice you got last year?
"A very good advice for me was: 'There is no guilt, there are only consequences.' You have to understand this advice in the right context. I think every person, or almost everyone, likes to live a life in which we don't upset others. Personally, I try not to harm anyone and to add value to the world. However, I have to make a lot of decisions and I experienced again and again that people were angry with me. I started questioning myself. At that point, my goal of trying not to harm anyone was limiting. The advice made me realize that it is impossible to do major things in life without upsetting some people. I could feel guilty all the time, even though I have the best intentions. But now I try to think: can I live with the consequences? If so, live on."
Last December, there was an investment deal with Rocket Internet, a Berlin-based internet platform. What have you learned from them so far?
"I think this deal is a perfect partnership. We have a culture of young, international people who would like to build a world without barriers. They have the knowledge in execution. When you get to the point that you need to scale a company, it is very important to have experienced people in the team. People who are able to structure processes which are, all of a sudden, not between two or three persons but between thirty or forty. Rocket Internet offers this experience. They helped us to bring the company to a whole new professional level when it comes to analysing data and structuring processes. I think that they are learning from us too. About how a company exists of people, how important it is to make sure they're proud of what they're doing. At least, that is what I hope."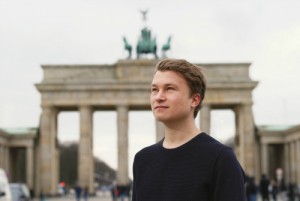 You moved from Rotterdam to Berlin after the investment deal. What were the reasons for this?
"First of all, I wanted to be able to learn as much as possible from Rocket Internet. Obviously, the closer you are, the more easy this is. Other reasons were capital and people. I think that the Rotterdam startup scene, and the Dutch scene in general, has a lot of potential."
"I do feel that the climate is better in Berlin, though. Here, capital is more readily available. It is still a big jump from the situation in Silicon Valley, but I just feel there are more possibilities than in the Netherlands. Also, in Rotterdam it is very difficult to hire people that have experience in the online industry. The universities in the Netherlands are not focusing on what is going on online. During my studies strategic management at Erasmus University, I didn't have one example of a Silicon Valley company. In Berlin, it is more easy to find people with experience. And the last reason is that Berlin is a city that receives a lot of media attention. So the companies residing here automatically get more attention."
Last but not least, can you tell us about nestpick's latest activities?
"We've just expanded to four more European cities: Delft, Lille, Dublin and Vienna. For Ireland and Austria it's the first introduction of nestpick. The choice for these cities was mainly based on where the problem is the biggest, so we can add the most value. Nestpick receives lots of emails from students who are already using our platform and like the flexibility of it. They tell us that they would like to move to another city in Europe, but experience problems with finding a room or apartment. We use this information to make choices. But in the end, it is not a question if we go somewhere. For us, it's clear that we will go everywhere, it's only a matter of time."

Photo's provided by Nestpick