Robbert Jan Hanse en Maurice Bakker are on a mission. They want to transform ideas into startups and have started Holland Startup, which they claim to be the first Dutch venture builder.

It all started with a barbecue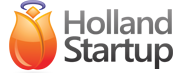 Robbert Jan Hanse (founder of Spotney and E2Ma) and Maurice Bakker (founder of Planschade Instituut) met each other during a neighbourhood barbecue in the town of Houten, where they both live. They became friends and the plan for Holland Startup materialized a bit later. Hanse told Bakker about Bill Gross, who founded IdeaLab in 1996 and transformed 125 ideas into companies. Hanse wanted to do the same in The Netherlands. Bakker was convinced by Hanse's enthusiasm and together they started the first Dutch venture builder. (It is worth noting that the University of Amsterdam tried to set up something similar in 2012 with StartupPush, but as far as we know their programme isn't running anymore.)
A bunker filled with creativity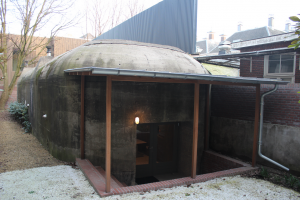 Located in a former vicarage, adjacent to a church in the centre of Utrecht, Holland Startup's headquarters don't really feel like your average office building. There's even a baptismal font still present in a corner of the main hallway. The real surprise can be found in the garden though: a bunker, a remainder from World War 2, lies like a huge sleeping tortoise between the vegetation. Its walls are more than two meters thick, and the ceiling is really low, but with ample space to sit it stimulates creativity and provides a perfect location for pitches, courses and startup events.
Commitment for life
We engage the execution for life.
Hanse is clear on the differences between incubators, accelerators, venture capitalists and Holland Startup. "Incubators facilitate and mentor, accelerators generate visibility and investors invest money. These are all very useful, but they are fragmented. The most important phase starts after the acceleration and investment phase. We provide support during the whole process."
Holland Startup provides:
The idea or business model
Management of the building process of the startup
Financing during the first 12 to 18 months
Help during follow-up rounds
Shared services, mentoring and entrepreneural guidance
If you want to know more about the way venture builders work, there's a very readable article on VentureBeat covering this subject.
All this gives the co-founders as much time as possible to work on their startup and enables them to focus on the product and their customers. The role of Holland Startup changes over time. Starting with a very hands on approach in the beginning, and evolving into strategic coaching after several years. Hanse: "We engage the execution for life."
A venture builder
Holland Startup wants to build an average of five startups each year for the next five years. The building process started last year, with just one founder, Erik van Vulpen. Soon, Hanse and Bakker realized that two co-founders are a lot more efficient for building a startup, so they hired second a co-founder and together they founded Peeralyze, a social capital startup.
After this 'Beta-launch', this year the programme goes full force ahead. Right now four graduates are contracted and talks are ongoing with twenty additional ones, so this July the programme will start with at least ten co-founders, resulting in five startups.
Working with graduates
Those ten co-founders are recruited at universities, because Holland Startup builds startups with teams of graduates. Hanse explains: "We want people who are smart, who want to work hard and who have a flexible attitude. Graduates fit those requirements perfectly. Graduates are eager to learn as well."
Bakker continues: "There are a lot of very smart people graduating from universities who are thinking about entrepreneurship, but don't dare to take the first step. Or maybe they tried it once, maybe they failed, and we want to give them the opportunity to do it."
Students can still apply for a position as co-founder on F6S until 1 May 2015.
Unselfishness
We think of it as an unselfish way of providing something to the university.
Not all students arrive at Holland Startup by filling out an application form. Most people are meeting them through one of the many university programmes. Holland Startup provides two kinds of educational programmes at the University of Utrecht, together with the Utrecht Centre for Entrepreneurship. One is a short, very intensive programme that lasts one week and is organized four times each year, while the other is a full five-week business course programme.
Bakker: "We think of it as an unselfish way of providing something to the university." He believes that unselfishness is what defines a startup ecosystem, something that is described by Brad Feld in his book 'Startup Communities'. Bakker: "Get the university involved, get the government involved, get entrepreneurs and investors involved, let everyone join. Give something and take something. Someone who just takes without giving anything back, will not be tolerated by the system. Let it grow in an organic way."
To engage the Utrecht startup ecosystem, Hanse and Bakker, together with Founded in Holland, The Utrecht Centre for Entrepreneurship, StudentsInc and The Economic Board Utrecht, launched the website startuputrecht.com
And on the 2nd of April the bunker in the garden will be hosting Bunk'd, which is an event for startup founders. Anyone interested in joining can apply here.
The small print
Unselfishness might be beneficial for the Utrecht startup ecosystem, but of course Holland Startup has to make money as well. Each startup that will be build, gives out shares. The co-founders get at least 35 percent of the shares, while external investors will get 40 percent. That leaves a maximum of 25 percent for Holland Startup. Hanse: "Accelerators like Rockstart get 8 percent of the shares and support startups for a period of three months. We get 25% of the shares and provide a commitment for life."
Investment round
Up until now, Holland Startup has been bootstrapped. Currently they are running an investment round to accumulate 5 to 10 million euro from investors. According to Hanse, about 20 percent of that amount is already committed and talks with other investors are still running.
Hanse on how to convince potential investors: "We convince investors by showing them our co-founder recruitment programme, the building process and our entrepreneurial experience. They believe in the process of us as venture builders."
Why Utrecht?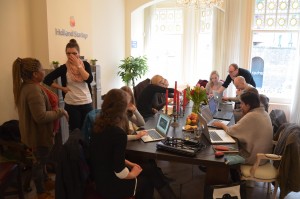 When asked why Holland Startup is located in Utrecht, Hanse and Bakker are clear:
Utrecht has one of the best universities in the field of entrepreneurship and innovation (top 10 in Europe)
A quarter of the population of Utrecht is a student
Half of the students are foreign students
Startup Delta
We hope incubators, accelerators and venture builders are willing to work together in the future.
Hanse and Bakker see Startup Delta, the startup programme lead by special envoy Neelie Kroes as a positive development. Hanse: "It is very good for the startup ecosystem in The Netherlands in general and provides a positive climate for entrepreneurship. Neelie opens doors that have never been opened, in the corporate world, as well as in the government."
Startup Delta provides a mere start though, and entrepreneurs should take action themselves as well. Bakker: "In The Netherlands the different incubators and accelerators see each other as competitors. We would like to see this change and hope incubators, accelerators and venture builders are willing to work together in the future, something that will be beneficial for the Dutch startup ecosystem."

Frontpage photo by Pieter van Marion (creative commons via Flickr)
Other photo's provided by Holland Startup