Setbacks are part of startup life, and automated trading fund Arete Caerus just experienced a major setback: the company is restructuring and this includes going through bankruptcy. The only good news is that the customer's money is not lost and that the founders hope to continue.
Arete Caerus started early 2013 as a startup and raised a significant amount of funding (€ 600.000) in January 2014 through a share-certificates from a large group of informal investors. The idea behind the startup was to start a financial fund that made money through automated trading.
One of the founders, Sebastiaan Ratha, had discovered certain market inefficiencies that could be exploited by making matching trades. After many months of "dry-swimming" by making virtual trades, they went live in summer 2014 and has traded for several months with real money.
Hedge fund
Arete Caerus was styled like a professional hedge fund. Therefore it put certain safeguards in place to protect customer money in case of bankrupty: customers of Arete Caerus put their money in a managed fund that is not part of the bankrupty.
The money that is lost came from informal investors who invested directly in the company through share certificates. These informal investors have now lost most of their money, but the customer's money is still there. This is a much better situation than the bankruptcy of SellanApp or TenPages, where no such separation has been in place. It would be good if all financial and crowdfunding startups would put such safeguards in place, so that people can trust doing business with an independent startup.
Big question
The big question is of course why Arete Caerus is in trouble one year after the funding round. One of the major setbacks for Arete Caerus have been technical failures in their algorithms. The fund's aim was to always make a bit of money by using a family of algorithm that each aimed at exploiting a different opportunity. In most months they did make a small and steady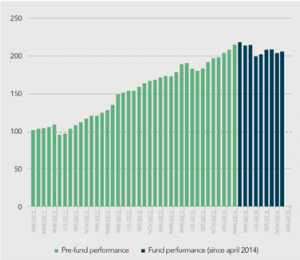 profit, but a loss of 7% in July 2014 wiped out all profits for customers. Arete Caerus thus had interesting technology but no track record to attract further customers.
Arete Caerus was however dependent on customer growth: In 2014 they decided to set ambitious growth targets and a large, professional team.
By the end of 2014, it became clear that not enough customers could be found and an alternative strategy was needed. The management made a plan to downsize the team and minimize costs, and asked existing shareholders for a follow-up investment. Unfortunately the follow-up investment could not be found and bankruptcy was necessary.
Restart
Interestingly enough, Arete Caerus hopes to continue in a leaner format. In this first round they styled themselves as a hedge fund, with the high cost of operation and dependence on outside funding. Sebastiaan and Joshua Ratha hope to continue as a lean fintech startup during 2015. They hope this will lead to a restart of Arete Caerus.
The informal investors keep ownership of the certificates (no longer share certificates, since there are no shares attached to the certificates, just certificates) and if Arete Caerus emerges, these certificates will give them the option to restore their ownership share. Although it is unclear what exactly the value of this potential option is, it is a nice gesture towards the initial investors.
For what it is worth, this bankruptcy seems to be one of the best prepared and fastest bankruptcies in the Dutch startup scene so far. At StartupJuncture we have always said that we should get rid of failure anxiety related to startups: startups are about experimentation and experiments should be allowed to fail in order to learn.
On the other hand a bankruptcy is something to frown upon. It leaves suppliers unpaid and that could in time lead companies to not supply to startups. Ideally startups should only spend the money from venture investors and close down before they go bankrupt. Arete Caerus has not managed to avoid bankruptcy, but is protecting its customer. Let's hope they will ultimately recover from this major setback.