Startup founders are encouraged to think global but often struggle when relocating due to visa issues. To solve this for startups coming to The Netherlands, a special visa has been created since January 1st 2015 for innovative entrepreneurs. Here is our unofficial StartupJuncture how-to guide for getting a Dutch startup visa – by Janneke Boerman and Sieuwert van Otterloo.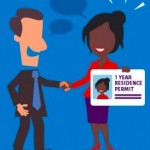 Immigration policy is not something that startup founders want to worry about (unless that is your startup's area of operation), but unfortunately some startup founders have to. The traditional immigration rules of the Netherlands and other countries are often startup unfriendly, as they often require employer statements and external income. With a change in the immigration law, informally called the startup visa, the Dutch government has tried to fix this issue. The new law has been in effect since January 1st 2015 and the first visa has been granted. Practical information however has been scarce. In this living document we aim to combine everything you need to know for a successful application: not only the official rules but also background information, best practices and other guidance. If there is something missing or you have remaining questions: please email us or leave a comment.
The structure of this article is as follows:
Background and prerequisites
Criteria
Process
Tips & Tricks
1.Background
who needs a startup visa?
The startup visa is mostly relevant for non-European, non-American citizens. Under European law, EU citizens can travel freely and work everywhere, so they do not need a special visa. For the United States and several other rich countries, there are special treaties to get visa or permits, and are less strict to obtain. (as an example of rich-country exceptions: Japanese people have received the same rights as Swiss people, based on a still-valid trade treaty from 1913).
For completeness reasons, we would like to point out that even before there was a startup visa, The Netherlands had many international entrepreneurs. The following are the most common ways for getting permission to stay:
Tourist visa: you are not allowed to work, but can visit all startup hubs and talk to people
Student visa: many startup founders start their company during or after their bachelor's or masters. All Dutch universities have courses open for English students
Regular job: if you are highly educated with in-demand skills (e.g. IT skills and a master's or PhD) you can apply to a job and a big corporate and they can help you get a visa for highly skilled workers.
Self-employed Dutch residence permit. If you have freelance assignments, you can also apply for a special self-employed visa.
Spouse: many people come to The Netherlands because their spouse has landed an interesting job
Some of these visa options are temporary, but so is the Startup Visa.
What can I do with the Startup Visa?
The startup visa allows you to stay in The Netherlands and start your business for one year. In this year you need to make progress, so that you qualify for a normal Self-Employed visa. If your startup fails you must create a plan B: leave The Netherlands, get a job, marry, etc
What kind of startups can qualify?
The startup visa is intended for high-tech, innovative companies, the so-called startups. These should not be confused with regular companies. If you would like to open up a consultancy business, design company, grocery store, food market stall or import-export business, you are a starter but not a startup. Probably you can apply for a Self-Employed visa.
The definition of a startup that is most often used in The Netherlands is from Lean startup: "a startup is a temporary organisation defined to search for a repeatable and scalable business model" (see Steve Blank ). Most Dutch startups have the following characteristics:
A team of 2 – 4 founders. Single founder teams are possible in theory but not viable in practice, since most investors find these teams too risky.
A plan to invest a significant amount of time in customer and product development, instead of immediate revenue. As a consequence, startups need rich founders or external investors.
A limited liability legal structure, such as a BV. Without such a structure, no outside investors can come on board.
A growth aspiration on national, European or worldwide scale. Companies with only local ambitions (say a single restaurant) are not attractive to investors. Many Dutch startups communicate in English due to this ambition.
The Netherlands has several other legal options for companies (NV, VOF, CV, Maatschap, or even Stichting). In theory these are allowed, but in practice the BV is the most realistic option. BV means Limited Liability Company  (closed venture with limited liability).
Which parties are involved in the startup visa?
The following parties are involved in the Dutch startup visa
2 Process
What forms and papers do you need to hand in?
You can find the application form on the website of the IND. You also need to have:
A copy of your passport and
A signed declaration to proof your antecedents
Authorisation declaration
Registration number of your legal entity in the Chamber of Commerce. In practice you will find it hard to register without a visa. A spokesperson from StartupDelta has informed us that IND/RVO can be lenient on this one: intent to register should be enough, so if you are not yet registered, it is probably best to leave this for now.
Evidence in Dutch, English. French or German. Otherwise you need the documents to be translated by a translator who has been sworn in by a District court.
Some entrepreneurs from specific countries need to have a Tuberculosis (TB) declaration.
How fast will I get a response?
Officially the IND has 90 days (legal aim term) to decide on the application. Unofficially this will be faster, since the Dutch Government has announced that startup entrepreneurs are a priority.
What are the criteria?
We have found the following official criteria from IND  
Innovative product or service. On the website of the RVO you can find the definition of the RVO.
Agreement with a facilitator and a description of the support that the facilitator will deliver and also proof of the experience of the facilitator in supporting startups.
A Step-by-Step plan (not a business plan) that describes how you are going to build a business. In this plan your need four elements. i) you need to focus on your role in the Startup, ii) idea for the product or service, iii) innovative nature of the startup, iv) business aspect. The steps that you will take to make your idea/ product to a successful scalable business.
You need to proof that you have sufficient money to support yourself the amount available must be at least 70% of the standard amount for single persons under the Minimum Wage Act.
Tips and tricks
Please take care that you pay the fees and enclose all the requested documents, since otherwise it can delay your application considerably.
You need to be aware that the RVO is a governmental agency focussing on facilitating entrepreneurship and the people assessing your application are not industry experts. So you need to take the explanation on innovative not to lightly. Explain it, as you would do to layman or your mother. Let other entrepreneurs from different businesses review your application
If you don't have enough money to support yourself the first year, try to find a sponsor who can guarantee that when needed they will pay the minimal amount for you and enclose a written contract to support the guarantee.
You don't need a lawyer to help to fill in the forms. See for example the tips from first dutch startup recipient Finn Hansen.  However, sometimes you need to take care that documents are legally authorised, in order to be accepted by the IND. For example official translations and verified proof of Non-Dutch legal entities. When you don't have the right documents, it can delay your application.
Your sponsor organisation should prove that they have enough experience in supporting Startups and should sign an agreement with you. When in doubt, you can ask one of the well-known organisations to the RVO such as YesDelft, Rockstart, Startup Bootcamp to (also) support you. See also our resource page for a list of incubators in the Netherlands.
When describing how you are innovative, note that The Netherlands has an official top sector policy, focused on building nine sectors: Agriculture, chemicals, creative, energy, high tech, horticulture, high tech, life science, logistics and IT. It can never hurt to point out in your application which top sector you are contributing to
Photo credit: Wikimedia Commons – Visit Marechaussee