The Startup Orgy (TSO) has just announced the upcoming opening of its second co-working location in the center of the city. This time the startup has brought ABN AMRO along as partner for this new space.
TSO was founded in 2013 to try and turn the enormous Van Gendthallen (former train carriage factory) into one of the biggest startup extravaganzas of Europe. However, as things go in startup life, it wasn't meant to be and TSO made a leaner start with their first location on Groenburgwal. Multiple startups, like Cash or Card, Leapfunder and Printr, have since taken up residence there.
Having run their first location for almost a year now, founders Dave van der Pol and Joris van Laerhoven are ready for expansion. Instead of 'just' a co-working space they see TSO as a startup, which they hope to scale to various cities. Van der Pol: "Once we're able to prove our added value we'll go for funding and expansion to two new European cities in 2016." First up though is their second Amsterdam location: TSO Munt Square.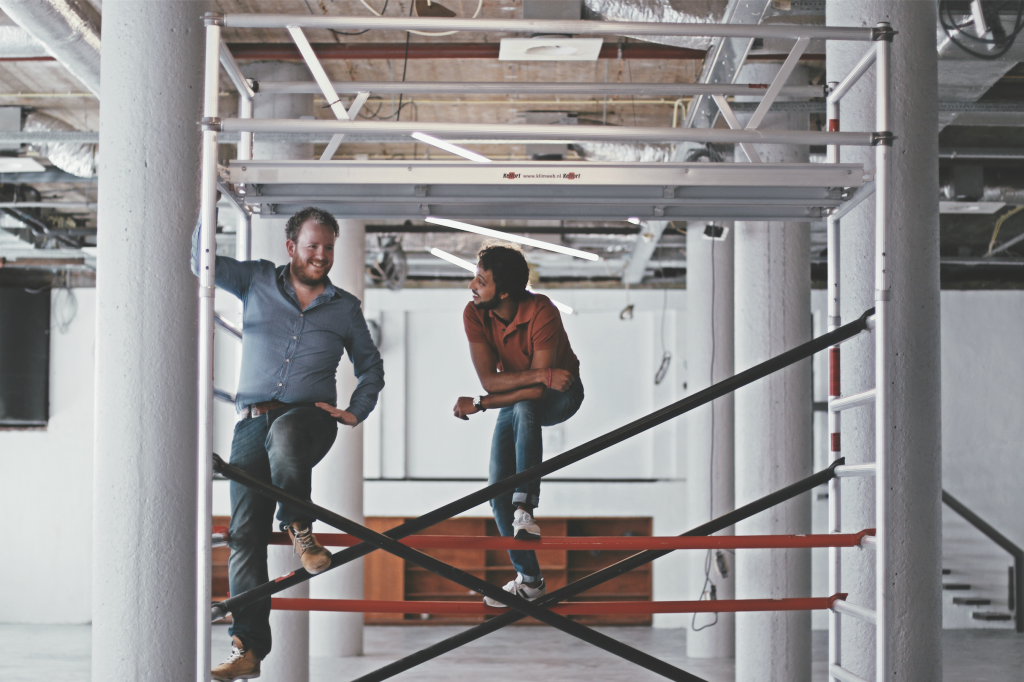 Co-founders Joris van Laerhoven (left) and Dave van der Pol (right) overseeing the work at TSO Munt Square 
For the new space they're trying something new and have brought in ABN AMRO. Instead of sponsoring the space, the bank will deliver 'added value'. ABN will provide residents knowledge (presence of ABN professionals), network (gateway function to the bank) and content (events). Co-founder Van der Pol: "[ABN AMRO] can help open doors and access networks that would otherwise remain closed to the startups on their own." 
This initiative, spearheaded by its innovation department, is the bank's second large foray into the startup ecosystem. Earlier ABN AMRO was a cornerstone shareholder to the first three Startupbootcamp programs, an arrangement parties decided not to continue going forward (Rabobank has stepped into this void).
Van der Pol and Laerhoven aim to open TSO Munt Square in the first week of June. The location will offer space to around 15 startups and one larger team (50+). In the mean time their current location is running at capacity with 100% occupancy and turning a profit.
Disclosure: author was among the first residents of TSO Kloveniersburgwal and rented space there in 2014.