Ambidexterity is defined as the ability to use both your left and right hand. You all know how difficult it is to use your 'other' hand, let alone to simultaneously and independently operate them.
Piano players, basketball players and knitting grandmoms train for thousands of hours to get to ambidexterity. It is said that only one in a hundred people have this ability.
In the organizational context ambidexterity is used for characterizing organisations that have the ability to foster both explorative and exploitative processes, and probably also here, only one in a hundred organizations master this. This subject is getting momentum in corporate management.
Exploitative vs explorative
Startups are – by definition- explorative, as Steve Blank famously defined startups as organizations formed to search for a repeatable and scalable business model. Most existing large companies are organized around exploitative processes, where it is not at all about searching, but all about execution of an existing business model.
Companies operating in relatively steady conditions without too much turbulence in the past, like real estate, energy and banking completely organized themselves around exploitation. Only a few companies in highly competitive and high growth markets like telecom, internet and IT, were forced to create a hybrid culture where most managers had to be trained to both execute existing business models and find new business opportunities and reinvent the way that they do business on a daily basis.
Now many of these exploitative companies, like banks and energy companies, realize that their steady business environment is radically changing now. The only way to survive is to become ambidextrous.
Get startups on board
And that's the point where startups become of interest. There is no time to train the managers or adjust the processes. This takes years and years and there is no time for that. But there is an alternative. Just get those strange entrepreneurs on board and by definition you have some people who know all about exploration.
So more and more existing companies begin to understand that working together, investing, buying from and acquiring startups could be the key for survival in a environment that asks for other skills and processes. The coming years will show an increased interest for startups, creating more corporate exits that will attract more VC-capital and more talent. Quite a nice decade ahead!
So to all existing companies, do not try to teach yourself writing with your 'other' hand – get a friend who does, just for time's sake.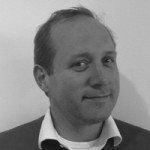 Entrepreneurial expert Job Nijs is co-founder of The Venture Generator.

Photo: gnuckx (Wikimedia commons)