StartupJuncture visited drone startup AvioniCS Control Systems in Leiden and discovered there are ways to make money as a startup, even when current legislation is not in your favour.

We interviewed COO José Antonio Perez-Mariscual and Head of Communications Libe Aguayo Aguinaga.
From space technology to drones
AvioniCS Control Systems was founded by Spanish entrepreneur Mauro García when he participated in the Business Incubation programme of the European Space Agency in Noordwijk in 2012. García has a firm background in space technology, having worked for the French space agency in Toulouse and for ESA in Noordwijk. Using this knowledge, the main goal of the incubation programme was to take the existing auto pilot technology used in satellites, and develop it into an auto pilot system for drones. This eventually resulted in the first product, the Hermes Auto Pilot.
Beyond drones, rapid prototyping
Soon, they discovered that legislation concerning the use of drones was not really in their favour. And to this date, it still isn't. Perez-Mariscal explains: "Currently only private use of drones is allowed, but unmanned vehicles cannot be used for commercial purposes. Basically, the market is not ready yet."
Though, with all this knowledge about auto pilot systems and sensors that was present at AvioniCS Control Systems, it would be unwise do just throw it all away. Perez-Mariscal: "That's why we decided that we should offer our services to companies. Start offering custom-made systems that do exactly what the customer wants."
While showing a small prototype, he continues: "Currently we have this small integrated board that is an air quality system. It can be mounted on traffic light or any other object, where it measures the air quality and sends the data into the cloud. The system is going to be used by a governmental institution in the north of Spain, and also some companies in The Netherlands have shown interest."
What makes AvioniCS Control Systems competitive? Aguayo Aguinaga: "We meet deadlines. And we have a collaborative approach, which results in long-lasting customer relations. Also, all our team members have broad experience in space engineering and technical engineering."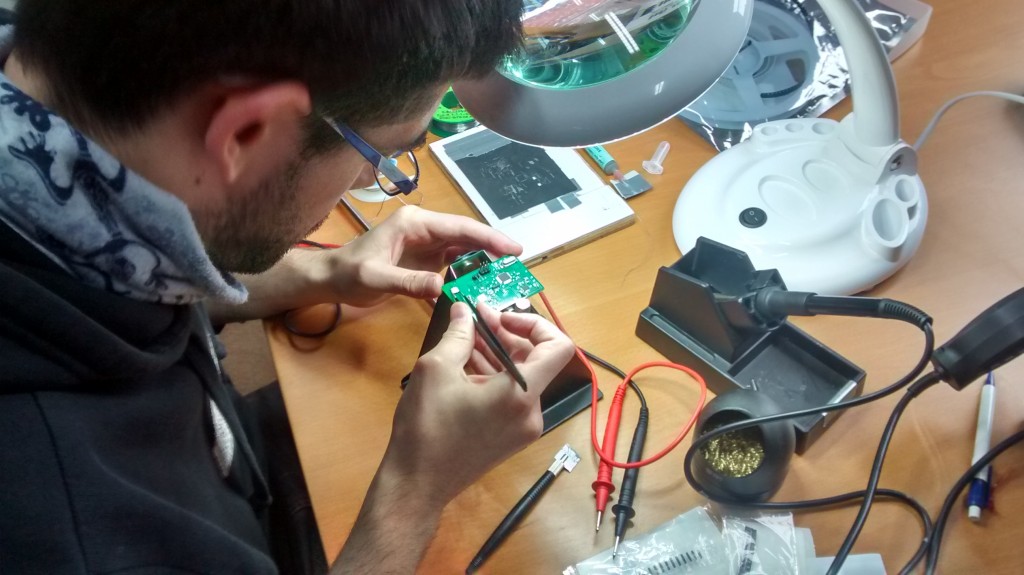 The team that Aguayo Aguinaga is talking about is quite special. After being founded, AvioniCS Control Systems started with interns and currently the team consists of eight people, mainly composed during the last twelve months. Seven of the team members are originally from Spain, because founder García wanted to help highly skilled people who have difficulties finding jobs in Spain due to the high unemployment rate there.
Internet of Things
The air quality system mentioned above, is one example of a product that is part of something that gets a lot of attention nowadays: the Internet of Things (IoT). AvioniCS Control Systems has a lot more IoT products on their sleeves. Perez-Mariscal and Aguayo Aguinaga tell me about a collision detection system, that can be used in cars, but also in extreme sports. After a car crash or a snowboard accident, the system sends a signal to the manufacturer, emergency services, or to a relative.
Then there is Speed up Smart Farming, a set of systems to be used in agriculture. AvioniCS Control Systems is developing this product as part of the pan-European grant programme Speed Up Europe.
We were also shown a working prototype of the Plug 'n' IoT, a product that will be launched through a Kickstarter project within the next few days. It's basically the Internet of Things in a box. To be more precise, it's a device, where all kinds of sensors can be plugged in that can be programmed to trigger an app to perform all kinds of actions. Imagine plugging in a humidity sensor that triggers the app to message you when your plants need to be watered.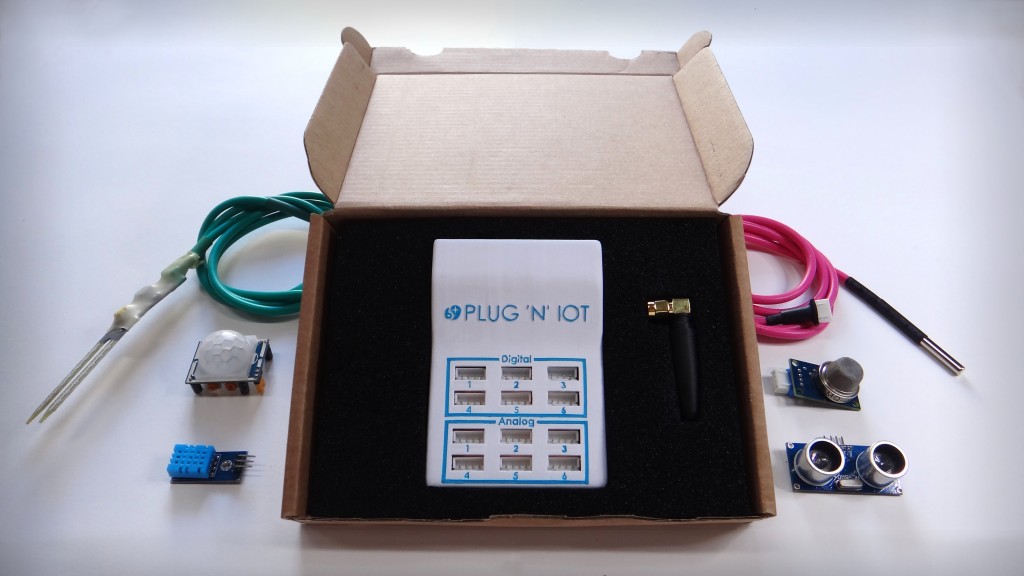 Wings for Aid
The Internet of Things may be big at the moment, the drones are still there too. Aguayo Aguinaga: "We don't want to throw away all the ideas and the money. We always keep an eye out on the drones."
Actually, the office in Leiden is lined with all kinds of drones, all containing an auto pilot system made by AvioniCS Control Systems. Most are of the familiar quad-copter variety. One that stands out is a fixed-wing model, that looks like a miniature airplane. Fixed-wing drones, being faster and much more durable, apparently are going to be a big thing in the near future. So it makes sense to start developing auto pilot systems for this type of drone as well.
One of the first projects that will involve the fixed-wing drone is Wings of Aid, in which drones should be able to deliver packages with a weight of up to five kilograms containing medicines and food to people in third world countries. Perez-Mariscal: "For example, the drone is going to fly into an area affected by Ebola to deliver medicines. Someone on the ground, with a mobile phone gets a message when the drone is close. He types in a code. Only if the code is correct, the drone will land. If not, it will keep circling around and eventually fly away."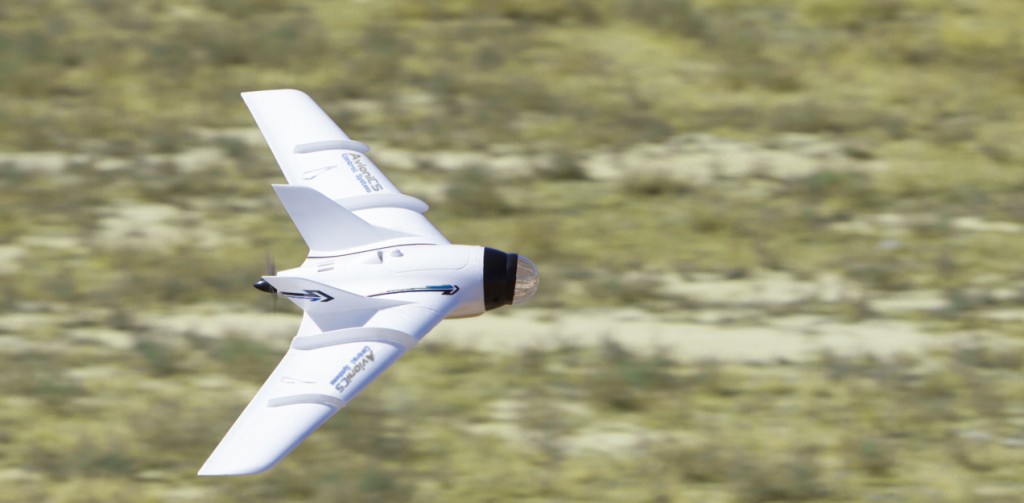 For Wings of Aid, AvioniCS Control Systems is working together with InnovationQuarter. They are looking for additional investors.
Speaking of investors, where does the money come from? Perez-Mariscal: "Initially AvioniCS Control Systems got money from the ESA incubator programme and then we got some customers and partners. Most money is still earned through stable partnerships. We are always looking for new ways to find money though. Grants, crowdfunding, all sort of things."
The Netherlands vs Spain
AvioniCS Control Systems is located in Leiden, but most of the team members are from Spain. How does the startup climate differ between The Netherlands and Spain?
Perez-Mariscal: "Being in The Netherlands certainly has advantages. There is a lot more support from the government in the form of investment programmes. InnovationQuarter in the province of Zuid-Holland is an example of that. Also, this particular region is a centre of technology and an ideal place to connect with the rest of western and central Europe. In Spain, the government makes it quite hard for people to begin their own business and there is a lack of promotion."
Aguayo Aguinaga adds: "In The Netherlands there are a lot of young people with ideas that want to invest their own money into a startup project. Because if this, there a many opportunities to meet each other and to network. In Spain, people have a different mindset and there is less entrepreneurship.
Drone Valley
AvioniCS Control Systems has it's office in Leiden, but since a couple of months they also have a testing facility nearby, at Valkenburg Navel Airbase in Katwijk. The local government wants to develop the airbase into 'Drone Valley', but there is still a change the project will never become reality and the airbase will be demolished and be turned into a real estate project. Perez-Mariscal: "Drone Valley will be an impulse for the local area and make Katwijk well-known in half of Europe."
We have to wait and see what happens with the plans for Drone Valley. We also have to see if new legislation for the use of drones is going to be implemented soon. On the first of July, the commercial use of drones in The Netherlands should see fewer restrictions, and the first of October brings further changes to current legislation.
Could repressive legislation ever be a reason to move out of The Netherlands? Perez-Mariscal is clear on this: "As long as the technological division of AvioniCS is doing well, there is no reason for us to move away."

Photo's provided by AvioniCS Control Systems