At The Next Women Innovation Summit in Amsterdam, five startups founded by women took part in a pitch competition. According to both jury and audience, Swipe & Shop was the winner.
Update 25 June 2015. The award for Swipe & Shop was withdrawn, because the company didn't meet the criteria – it's an in-house startup, part of Sanoma Media. Swipe & Shop is in the middle of negotiations to get independent, which takes more time than expected. The new winner will be announced soon.
Swipe & Shop is an app for iOS and Android, which is comparable to Tinder but with pictures of fashion items instead of men/women. A product is presented and you can choose to swipe to the right if you wish to save it, or to the left if you wish to see the next item.
Favourite items (the ones swiped to the right) are saved in a personal profile, which is also reachable via your desktop. If you would like to purchase the product, you are directed to the (mobile) site of the particular web shop. Extra functionality: you will receive a sales alert if one of the items in your wish list is on sale.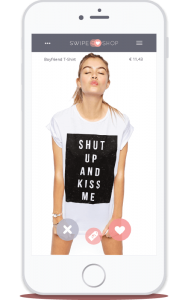 Swipe & Shop was founded by Nikky Hofland and Pamela Neelis and the app was launched on 11 November 2014. The number of users has risen to 50.000 in several European countries. They have swiped 50M products so far. At this moment, twenty web shops offer their latest collections through the app, including Zalando, Asos and V&D.
Pitch
Nikky Hofland and Pamela Neelis pitched at The Next Women Innovation Summit, a yearly conference organised by online business magazine The Next Women. The website has a large community of female entrepreneurs, leaders, founders and investors sharing information and knowledge to optimize their business.
Swipe & Shop will be provided with a financial loan of 10.000 euro from The Next Women Crowd Fund. They are also awarded a voucher to spend on advisory hours at Grant Thornton, worth 1500 euro.

Photo's provided by Swipe & Shop