We interviewed special startup envoy Neelie Kroes on short term vs. long term solutions, collaboration between hubs, the main role of StartupDelta and her personal opinion on Dutch startups: "Keeping knowledge to yourself is outdated".
With StartupDelta, the initiative to boost the Dutch startup industry, Neelie Kroes visits each hub in The Netherlands. When checking out the Utrecht scene on Wednesday, StartupJuncture fortunately had some time to sit with Neelie Kroes and StartupDelta director Sigrid Johannisse at the UtrechtInc startup incubator.
Frequently heard sounds coming from the startup scene itself are concerns about legislation for social enterprises, the overall investing climate, alternative ways of financing, the absence of talent and relieving staff expenses – just to name a few.
It should come as no surprise we used this as our starting point for the interview. (Editorial note: At the same day of the interview, StartupDelta wrote a letter to the parliament, asking for tax relief measures for startups).
There are a lot of 'top-down' initiatives facilitated by StartupDelta, i.e. corporates and governments helping startups. Are there any initiatives planned to help the scene 'bottom-up'?
"We set up coding programmes for kids. We think it's essential for them to learn how to code, because it actively stimulates creativity. Eventually that's good for future startups and our society."
"Next to that we are busy to stimulate entrepreneurship in The Netherlands. It's important for a startup to create a reliable business model so you have to teach that at an early age. However, it's not about learning to become an entrepreneur, but about having an original mindset, a new way of thinking."
"And not only this is for kids, but also for their parents, even politicians. It helps to have knowledge about entrepreneurship at hand."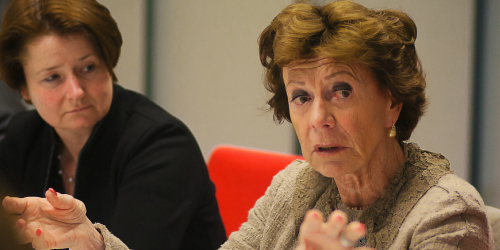 So the base for a good startup climate here lies in the future? What about things that need to be done right now?
"They're both important, but we have to start now if we want to make something of the future."
Johannisse adds: "On short term solutions we don't want to duplicate what's already happening in the market. There are a lot of people and companies working on those issues."
"What we do work on is a digital 'ticket window' for startups who need help with legislation. If that doesn't work out, our job is to make sure it does. Also, I think that the mentor network in Boston and New York will help startups here. And we made sure to attract venture capital from those places."
Why is there so much emphasis on the several hubs in The Netherlands? Isn't it better to market our country as one big hub?
"When we're abroad, we always talk of The Netherlands or Amsterdam as one big hub. It doesn't take a lot of imagination to see our country as one big city. We see the hubs as districts with their own specialties. Of course, these hubs are not islands, and they shouldn't act as one."
Hubs are not islands, and they shouldn't act as one
How can these hubs collaborate more?
Kroes: "Every two weeks we get people from those hubs together to learn from each other. Startups need to communicate mutually, and know of each other's existence. Right now, we have met so many people that we can connect a lot of startups with likeminded businesses. If something doesn't work out, get help from another startup."
"For instance, at UtrechtInc, I saw the preterm infant startup Innofuse and immediately thought of the childfriendly baby incubator Babybloom from TU Delft."
Is it hard to 'preach' startups this mindset?
"Not at all. Especially the younger generation is really conscious about collaboration. I think keeping knowledge to yourself is outdated."
Johannisse adds: "We put people together, so that they don't have to come to us. They don't say 'Give us a bit of corporate money' and let us do the work. We connect startups and hubs, they do the rest."
Keeping knowledge to yourself is outdated
About wanting pension funds to invest in startups: what goal did you have in mind when putting that idea out? It seems impossible to get them to do that.
Kroes: "Pension funds have a strong focus on international investments, because of government rules. It is our advice to put some of that money in the startup scene, but we can't oblige them. However, we all pay for those funds so it is our money as well. So if we give policymakers the right arguments, maybe the discussion about the goal of this huge pile of money will awake."
What kind of startup do you like the most?
"I really like startups which bridge divides, whether it's between language, education or age. There is so much possible with technology these days. Personally I'm really impressed with tech that helps the elderly to live on their own for much longer. As we all are getting older and older, it's necessary to live independently for as long as possible. I've seen a lot of Dutch startups realizing this becomes a big market."
"Also, we're surprised by everything that is going on in The Netherlands. I learn each and every day and the startup scene is never dull. So you can say I'm a privileged person."
Frontpage photo by Lisa Zilver