3D printing giants Shapeways have just announced they closed a new US$30.5 million (EUR27.2m) Series D funding round. The scale-up's SEC filing states the full round will eventually close at an even higher US$34 million.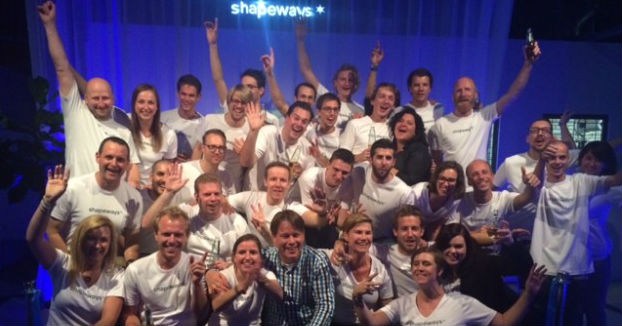 The Shapeways team celebrating
Shapeways, which originated as a spin-out of electronics conglomerate Philips, has been one of the first movers and leaders in the 3D printing industry. The Eindhoven founded startup had already raised around US$40 million in earlier rounds from investors including some of the top-tier VC names like Andreessen Horowitz, Index Ventures and Union Square Ventures. This funding has enabled it to grow into serving over 620,000 community members, designers and companies, including a database of over 2.5 million 3D printable products.
Series C
This new round, following 2 years after its Series C, are being led by INKEF Capital. INKEF is an ABP/APG (the – Dutch – largest pension fund in the world) backed venture capital firm which was launched in 2010. It's most recent fund was raised in 2014. The Dutch VC is being joined by existing Shapeways investors in this new round, as well as Hewlett Packard – well known for its printers.
Big vision
Co-founder Peter Weijmarshausen states the new round will help Shapeways realise their vision of reimagining mass manufacturing. His firm is looking to be the platform enabling people to reduce time to market of products from months to days.
INKEF's involvement does not come as a complete surprise. INKEF partner Robert Jan Galema, who will join Shapeway's board, has known the company from its early years at the Philips Lifestyle incubator. As part of the funding round Shapeways is also announcing a partnership with its other new investor Hewlett Packard.
Image credit: HBR.org