Accelerator program Startupbootcamp HightechXL has just announced the 11 startups that will participate in it's third class. Like previous editions, the programme is truly global: with 4 Greek startups, 2 from Slovenia and even a Chinese team.
Startupbootcamp HightechXL is an accelerator program that selects classes rderf around 10 startups, provides these startups with a small capital injection and a 100 days training program. At the end of the program the startups should be investor-ready and demonstrate their progress on Demo Day and hopefully raise additional funding in order to grow their company (see previous demo day 2014 and demo day this year). Startupbootcamp HightechXL is different from the other Dutch accelerator programs (Rockstart and Startupbootcamp Amsterdam) due to its high tech focus. It deliberately selects startups with the ambition of building an advanced hardware product. The program has always been very internationally oriented. Also this year they have succeeded in bringing talent to the Netherlands, with seven and a half International startups. We present you the overview, based on the article by Sophia Kirova.
Greece 4 startups : Brite solar, Tomotech, Sensoraide, green Desalination
Netherlands 3.5 startups: 3D by flow, ST3, Unconstrained robotics, SRM (half Dutch, half from Servia)
Slovenia 2 startups : Gotoky, Pel30
China 1 startup: Cooky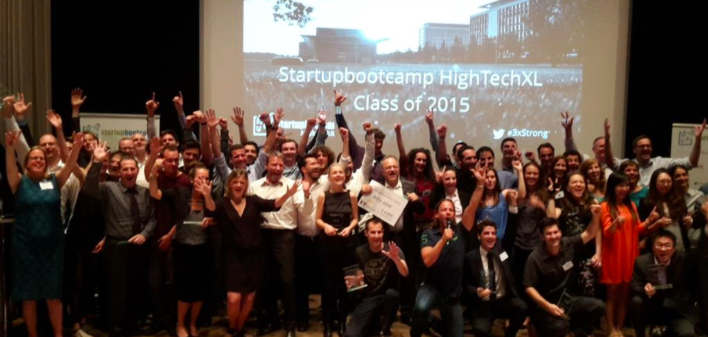 All the high tech areas are present: 3D printing (3D by flow, Pel3o), medical technology (ST3, Tomotech), robotics (unconstrained robotics), Internet of Things (Sensoraide) and green technology (SRM, Brite solar, Green Desalinisation). Odd ones out are the Chinese cyclists Cookee and walkie-talkie gadget GotoKy.
3D by Flow
Netherlands – The aim of the company is to make an affordable 3Dplatform allowing customers to bring 3D-printing, scanning, laser cutting and CNC milling into their daily lives or businesses.
ST3
Netherlands – ST3 brings live biomechanical data to coaches, amateur and professional sports fans.
Unconstrained Robotics
Netherlands – Unconstrained Robotics takes indoor navigation to the next level. They promise autonomous movement of drones without the use of GPS.
SRM
Netherlands / Servia – SRM develops an engine add-on to improve vehicle performance while reducing fuel consumption. The startup is allegedly half Dutch half from Servia.
Brite Solar
Greece – Like the New Venture participant PowerWindow, this company is developing transparent solar glass in order to eliminate the energy costs of glass greenhouses and thus affect the cost of food production and environmental impact worldwide.
TomoTECH
Greece – TomoTECH develops advanced products, targeting the brain MR Imaging sector. The goal is to provide more timely and accurate diagnosis of severe chronic diseases.
Sensoraide
Greece – Sensoraide leverages Internet of Things Technologies for the agricultural sector to optimize yields and improve the quality. The company provides a complete remote monitoring and decision-making solution, leveraging the power of Wireless Sensor Networks and big data analysis.
Green Desalination
Greece – GD claims to tackle the water crisis through sea water desalination with zero burden on the environment. We assume they use solar power, like previous participant Wattly.
GotoKy
Slovenia – The Gotoky team is creating the first smart Walkie-Talkie. It allows your SmartPhone to Call, Text, Send GPS Coordinates, Navigate, Use SOS in emergencies without the need of any network coverage.
Pel3o
Slovenia – Pel3o wants to make 3D printing highly scalable and therefore finally viable for mass production. They to leapfrog current 3D printing technologies so they an print an object in a matter of seconds. We are looking forward to see this done live on stage at demo day.
Cookee
China – Cookee is redefining the bicycle ride. The team integrates security into a simplistic design to bring a joyful experience to the bikers' community.
Dutch news show RTL Nieuws interviewed several of the Greek entrepreneurs during the selection days. The topic of course was the Greek crisis. "We try to stay calm and not take rash decisions under pressure" says founder Giavri Zoi of TomoTech to RTL Nieuws "But we have resources locked in in Greece and we are not sure whether we can keep paying our salaries. Also our international partnerships suffer from the uncertainty".
We are looking forward to see all startups on demo day and hope that all startups, including the Greek ones, raise the funding they need. HightechXL has a good trackrecord, with funding for previous participants Ulu, Mint solutions, Avular and Manus Machina.

Photo's provided by Startupbootcamp