Three years ago, Compass (formerly known as Startup Genome) published a global startup ecosystem report. Although heavily focused on North America that time, in this year's report there's more attention for Europe. Amsterdam enters the list on the 19th place.
Earlier this year we asked everyone in the Dutch startup scene to contribute to the report. It seems like it paid off, as Amsterdam entered the top 20 of worldwide startup ecosystems.
In the 2015 report the ecosystems are ranked by performance, funding, talent, market reach, and 'startup experience'. The latter described by Compass as "data that's linked to success of startups, such as having veteran startup mentors or founders with previous startup experience."
Silicon Valley still going strong
Silicon Valley, of course, is still the top dog in the world – followed by three other American cities. New York City took the number 2 spot from Tel Aviv. Ranked 1 in Europe is London, taking a number 6 spot worldwide.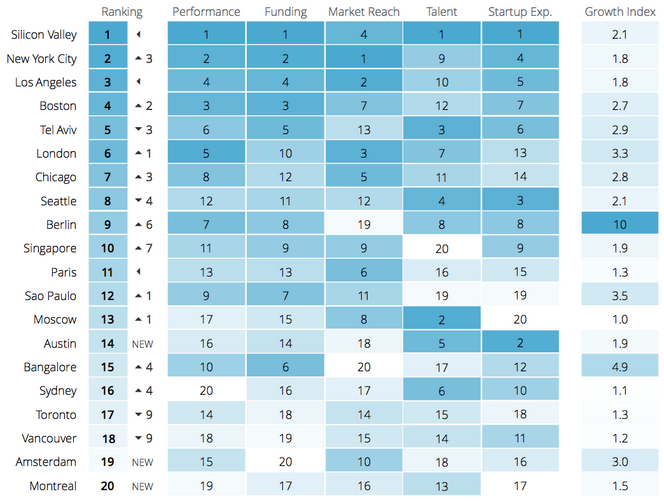 Amsterdam growth
Amsterdam, 19th on the list, is Europe's 5th hub after London, Berlin, Paris and Moscow. On the overall growth index Amsterdam scored a 3x growth compared to 2012. Growth in VC investments was 2x, and exit growth was 4x.
The 5th place in Europe is sure good news for startup envoy Neelie Kroes, who wishes to get the Netherlands in the top 3 of Europe as soon as possible. There's still a lot to do to 'beat' Paris and Moscow though.
Also we must not forget the report from Compass didn't list other great startup ecosystems in Europe, as it relies on the input from several hubs to collect data. For instance: Barcelona and several cities in Scandinavia are not on the list. Compass also wants to add more ecosystems in Asia as well later this year.