Next to hosting several startup accelerators, the city of Amsterdam is becoming a true startup accelerator itself. Despite this great environment for startups, I've decided to take a break from bustling city life.
I got triggered to write this blogpost this article on StartupJuncture about rural coworking – in which they stated that coworking homes, coliving houses and now also rural coworking are getting more popular for online business owners and freelancers around the world.
This blog got posted 4 days before my plane to Geneva would take off from Amsterdam Airport.
The choice for rural coworking
In January 2015 I handed in my resignation at my consulting job. From March on I started to work on my startup part-time (2 days a week) and focused on building the platform, establishing online presence, setting out strategy and performing initial sales activities. When by the end of July my contract at my employer ended, it was really time to get this thing going. But with all the Amsterdam distractions (parties, festivals, friends, drinks in the sun on beautiful terraces) and a pretty drastic decline in income it was quite obvious to me that this wouldn't work.
I needed to rethink all that happened in the past couple of months, review my work, simply put in a lot of hours and live in a place where I could afford my new "status" as startup founder. Rural Coworking seemed the answer. According to Sharaeble, coworking is a collaborative style of work in which mobile professionals share a common space as well as ideas. Add rural to that, and I would go to a place where I could wind down, focus and get things done.
I rented out my apartment, booked the cheapest ticket out of Amsterdam and looked for a 2 month rental on Airbnb in a 50km radius of the airport. Off we go!
How to pick a location for your rural coworking experience?
If you are thinking about moving abroad to work on your startup or as a freelancer, you should probably ask yourself the following questions. The answers will help you narrow down the choice of locations.
What's my budget? – some countries are more affordable than others. It may seem great to work in Norway or Switzerland for a while, but if you're not generating much income this will be a tough one.
What to do there? – If you end up in a big pensionado retreat on the Spanish coast, you might be back home before you know it! Everyone needs some human interaction and things to do once in a while, so check for example TripAdvisor or Couchsurfing to see if anything's going in the place you're thinking of going.
What languages do I speak? – Chances are that you will end in up smaller villages where the locals don't speak English. If you want to get around easily and make some friends, it would definitely help if you'd speak some words of the language of the country you're going to.
Sun, sea or mountains? – Choose wisely. If the weather and the natural environment around you have a big influence on your mood, pick a location that suits this. Also, if you're big on sports, see if you'd prefer water or mountain sports.
Transport – Depending on how rural you want to go, think carefully about the mode of transport you'll be relying on when you get there. Is there any public transport around, or would you need a car to get to the nearest supermarket 10km away?
Moving around or staying in one place? – Is it easy for you to pack light and work on the move? Or do you prefer a solid base to stay where you can integrate in local life a little bit?
Are there co-working spaces around? – In a more rural environment, there might be fewer places to work and to meet other entrepreneurs. Take into account how much you need other entrepreneurs around you and what kind of facilities your new HQ has. Also don't forget to have a look into co-living for a while, this might be a great option.
I started my search keeping in mind that all I would need is a bed and Wi-Fi. When I did the above checks, I felt that I wanted to go the mountains where I could do lots of sports, in a place that was relatively easy to reach by public transport and that was quite easy on the budget, yet with enough people around to not feel lonely. I feel comfortable getting around in French or Spanish and one of my additional requirements was sunshine and good weather.
I was mainly thinking about going to Spain or Portugal, but didn't quite find the right combination of a cheap ticket and affordable accommodation in a nice place. So, I ended up moving to Morzine, a village in the French Alps 1 hour from Geneva. Through AirBnB I booked a room in a shared apartment and EasyJet was so nice to get me there.
I moved to a place not famous for it's coworking facilities or amount of entrepreneurs. Yet, everywhere I go (coffeeshop, sports classes, running or biking) I kept meeting people that I talk with about my company. Local business owners, freelancers, my new friends and simply the fresh mountain air provide me with new ideas, energy and inspiration.
Pitfalls of running your startup from abroad
Once you've decided on a place to go and you've got everything booked, you've got to go on and do it. This where it gets hard sometimes. I encountered the following issues to a certain extent:
Social life – Well, your social life won't disappear completely but it will probably be quite different from where you came from. If you're not afraid to meet the locals and spend some time by yourself, you'll most likely survive this.
Target market – It's quite likely that you are further away from your target market than you're used to. If your customers are not online, it might be hard to reach them from your new place. So, depending on the phase your company is in and the activities you want to pursue, you may or may not want to move abroad to work.
Your team – Make sure the rest of your team is comfortable with you being away. Even though we have so many communication media at our disposal, meeting with someone will remain more effective face-to-face.
Timezones – Be prepared for working in different timezones. If you're moving far away, cooperation with your team or interaction with your customers might become an issue. For example, if you run your startup from Bali.
That working abroad in a quiet location is not for everyone, is clear. However, if you're a even a tiny bit like a digital nomad, you'll be getting used to your new place soon.
Where would you like to try rural coworking? Let me know and if you have any questions about rural coworking, feel free to reach out!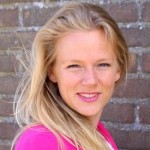 This post was written by Sabrina Bos, Founder of accessART, a global online art platform linking hand-picked artists to young art buyers. Enabling selling & buying art online in a fun, simple and transparant way. @sabrinabos