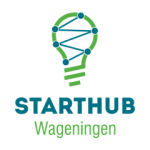 On the 18th of November, student incubator StartHub Wageningen has been open for one year. To celebrate this, StartHub organizes a Lean Camp where startups, students, PhD's, entrepreneurs and experts in food and IT come together to work on (new) business ideas. This event is part of the Dutch Global Entrepreneurship Week.
Are you:
-An entrepreneur in Food?
-An app builder or IT expert?
-A professional or founder who improves business ideas?
-A PhD or student who wants to know more about entrepreneurship?
Then join the Lean Camp to get inspired, create business ideas, discuss business challenges and find solutions together.
What is a Lean Camp?
Lean Camp is an open, interactive, high-energy event, which brings together diverse communities of doers to exchange knowhow and learnings. Everyone has the power to drive the event's agenda, to contribute their experience, and to interact with thought-leaders and experienced founders who are creating faster ways to work on business challenges and ideas.
Location: Wageningen Campus, Vijfde Polder 1, Building 119.
More info: website

Photo by Jamie McCaffrey (creative commons via Flickr)