In our new series How To Tech we highlight the strong but sometimes silent part of startups: developers. How do they work? What kind of tricks do they use? We asked Tim Flapper, senior developer at Springest, how tech is shaping his daily work.
Can you run us through the basics of your use of tech and the technology stack at Springest?
The Springest platform runs on the Ruby on Rails framework which we really like because of it's simplicity and ease of use. As Springest is about searching and finding (training programmes and courses, ed.), we use Elasticsearch from Elastic.
We work with continuous integration (CI), so we can put new features online quickly multiple times a day. Monthly we deploy approximately 100 updates to Springest. However, we don't put anything online without checking the code by another developer. Next to that, we use automated testing and AB tests to make the platform better.
Recently we migrated hosting from Rackspace to Amazon Web Services (AWS). We use their Elastic Beanstalk platform, which made our server infrastructure more stable and made maintenance even easier.
For incidents outside working hours we use the app Pager Duty. Rotating, two developers at a time are responsible for responding to such notifications. Luckily those incidents happen very sporadically. Also Slack is very important. Almost everything we do is being monitored 24/7. Whenever something important happens, it's immediately shared on our #dev channel.
Which Slack integrations do you use the most?
Mostly GitHub and AppSignal. When there's a new feature ready to be reviewed, it's shared by the Github integration.

The AppSignal integration registers errors on our platform. We also use Slack for getting notifications about downtime – we use several systems to immediately notify us.
Slack seems indispensable for developers now. How did you do it before the 'Age of Slack'?

We used Campfire, which also had some integrations. But not on the level we're used to today. I can't imagine getting any work done without Slack. Without notifications we'd have to check things manually, which is simply too much work.
Springest is famed in the Netherlands for being one of the first startups implementing Holacracy. How does that affect development culture?
Because of Holacracy we have maximum freedom without losing track of our priorities. Developers at Springest work closely with the product owners (PO). Because of Holacracy everybody is really their our own boss, PO's help us decide what to work on by preparing projects and communicating their importance. Simply said: it's the PO's task to prepare projects and to get them on our roadmap. We arranged the PO's to work together whenever they can, so development work is done as efficiently as possible.
Does it work for you personally?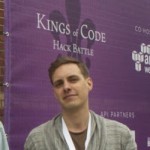 To me, as a developer, Holacracy is a perfect fit because it doesn't 'treat' me like I'm just a developer building and handling stuff. I'm passionate about the product and I'd like to think with the company. Holacracy works with certain role assignments. My core role is that of the developer, but next to that I'm responsible for showing our tech to the world (hence this interview!).
So it really allows us to explore new talents as well, and to grow professionally. It keeps work varied. Also, Holacracy means no deadlines, and that's something the development team really likes. That way we don't build up stress and we make less mistakes. We just try to fix things in our own pace, but as quick as possible.
If you must describe an average day as a developer at Springest – how would it look like?
Every day at 9.30 AM we attend a stand up with groups of 5/6 people. Then we tell everyone what we did yesterday and we'll do today. This works as a good reminder for the team. Next: we check all our todo's. All developers have access to a shared task list. There are no specific rules of which person fixes X, because with Holacracy our roles change weekly. For instance: when you're on 'exception duty', you check for errors manually.
When we've updated a feature, we show a demo to a stakeholder for feedback. When code is done, another developer checks it, we deploy it and check it online. It happens a lot that we're doing multiple things at once. And of course, we play ping pong every day.
Also, every month we organize an internal hack day, where everyone at Springest works on something that's not on the roadmap. It's great for staying creative and it gives us the opportunity to work on something that's important to ourselves.
Update (November 30): Springest just launched a video about their company culture. They're looking for new people!
Photos provided by Springtest