Thursday the Sprout Challenger 50 contest was held for the 10th time and SciSports is the lucky winner!
Best entrepreneur of the year announced during Challengernight
Giels Brouwer, the entrepreneur behind SciSports was the honoured winner of this years Challenger 50. During a final pitch battle it was clear he would be the one beating last years winner Hotelchamp. The battle was between SciSports, SLA – represented by Job van de Graaf and Nina Pierson and the Speakap, a networking app for retail- and hospitality staff, represented by co-founder Patrick van der Mijl.
SciSports: Football data as a business model
Brouwer started SciSports in 2013, building a system that measures the qualities of football players and provides the data to football clubs. Recently they developed a system registrating matches with 3D-camera's and analyses realtime relevant data, which is also available for football clubs.
It was a pleasant surprise for Brouwer, as his day on December 7th started with a burglary at the office, where all laptops were stolen. He sees the award as an encouragement for next steps and a reward for his team and their efforts and will give it an important spot at the office.
"The Sprout Challenger award is a perfect motivation to keep going, Brouwer says".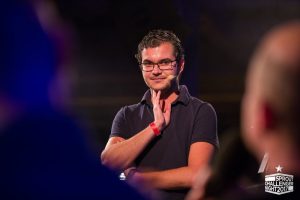 Judge report
The full male jury, consisting of Gijs Nagel (DeGiro), Erik de Heer (EY), Kristian Valk (Hotelchamp, Challenger van 2016) and Philip Bueters (Sprout) awarded the title Sprout Challenger to SciSports because of the advanved technology the scale-up developed, specially for a market that is known to be very traditional.
The Sprout Challengernight was held at Pakhuis West in Amsterdam and hosted by Eddy Zoëy.