Even though 2020 was a challenging year due to Covid-19, many Dutch scale-ups have obtained funding in 2020. We used data from data platform Dealroom to make an overview of 68 Dutch scale-ups (early-VC or series A) who raised more than 400 million euros in funding in 2020.
Why this funding overview
When StartupJuncture was founded, the Dutch startup sector was much smaller and also intransparent and not visible from abroad: only a few deals took place and the deals that happened were not recorded in English media. This gave the false impression that The Netherlands was not a viable place to launch a startup. From 2012 – 2016, StartupJuncture tried to raise visibility and transparency for Dutch startups by covering startups, accelerator programs and related news, and succeeded (with help from many other people) in putting the Dutch ecosystem on the map. In 2017, StartupJuncture was put on hold as the founders had other business to attend to. I myself have an IT advisory firm to run (ICT Institute, we do help startups but that is not our main focus), other founders moved to new jobs or even new countries. We therefore stopped our news efforts, but once a year we would like to remind our previous audience that the Dutch ecosystem is still in good shape. Our funding list is meant as a starting point for anyone interested in the Dutch startup ecosystem. You can see immediately what kind of startups and scale-ups are able to raise funds. With some effort, you can find out who the investors are and what accelerators helped these companies
Data collection and data source
When we started our overview, there was no single good datasource for Dutch startup funding. Since three years ago, there is Dealroom . Dealroom.co is an Amsterdam based data company that tracks funding rounds and companies for many regions, including The Netherlands. The free version allows one to do simple searches and check individual companies. There are paid accounts for complex queries, aimed at serious analysts and investors. We used the free version to compile our list. The sectors were determined by us (Dealroom puts companies in multiple categories). Some currency conversions were made from dollars to euros.
From Dealroom, we only selected funding categories "Early-VC" and Series-A. This was mostly done for practical reasons, to keep the list size manageable. These categories were selected since we are interested in established companies that are ready to scale, but that are not household names yet. If you visit deal room, you can find more funding deals in other categories.
The full data table
Comparison to previous yearsThis 2020 funding overview can be compared to similar overviews from previous years:
Note that in previous years, we included more deals, mostly smaller deals (preseed funding and crowdfunding campaigns). We have excluded these for practical reasons: the list would have become too long to serve its purpose as a starting point for exploring the Dutch ecosystem.
Statistics
For those people interested in statistical analysis: despite the economic disruption due to Covid19, deals have been recorded in every month with most deals (10) in May. This shows that investors will still invest even in challenging economic conditions.

Most investments are made in medical technology. We expect that such companies require more funding since the amount raised is also higher for medical startups.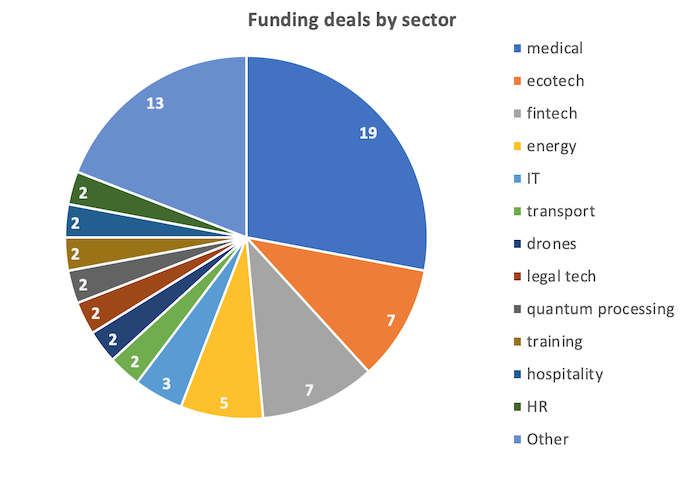 img src: Erwan Hesry via unsplash.