Techleap, a government initiative, and Mckinsey, a consultancy firm, have teamed up to create an interesting report about the Dutch startup ecosystem. The main gist of the report, called "Building a world-class Dutch start-up ecosystem" is that we can be proud that there is a Dutch startup ecosystem, but more should be done to build global champions. The Netherlands and Europe risk losing out if no actions are taken. It is a nice macro view on the impact of all startups on the wider economy with four important recommendations.
About the report
The report was created by consultants Tobias Henz, Laura Hofstee, Peter Jacobs, Mohcine Ouass, and Sven Smit and published in November 2022. The report was created by doing 20 interviews with contributors to the Dutch startup ecosystem, combined with quantitative modelling to predict the impact of making certain improvements. The quantitative modelling was used for instance to estimate how the number of new startups per year can be increased from 1000 (in 2021) to 1400 in 2030, if non-traditional groups can be supported better. The potential of each group, including non-academic founders, female founders, founders with a non-western background and middle-aged founders has been estimated in the chart shown below. While predictions are often wrong, especially about the future, it is good to see the potential impact that we could have by making changes in our ecosystem.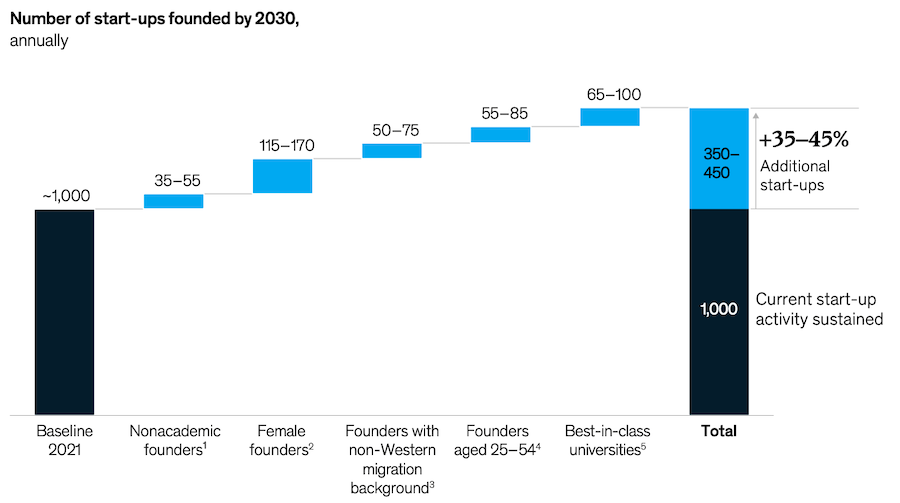 How is the Dutch startup ecosystem doing?
The report compares different countries through four metrics: number of startups per million people, the percentage of working age people that are active as entrepreneurs, patent applications per 1000 inhabitants and a rather vague 'startup climate' ranking based on economic Health, Cost of doing business, Business climate, Labor force quality. The Netherlands ranks 4th, second, third and third respectively. The front runners are Estonia, USA, Sweden and Germay. As the report remarks, this is not a bad score at all. One key weakness however that is unique to The Netherlands is the conversion from early stage to late stage startups, as shown below.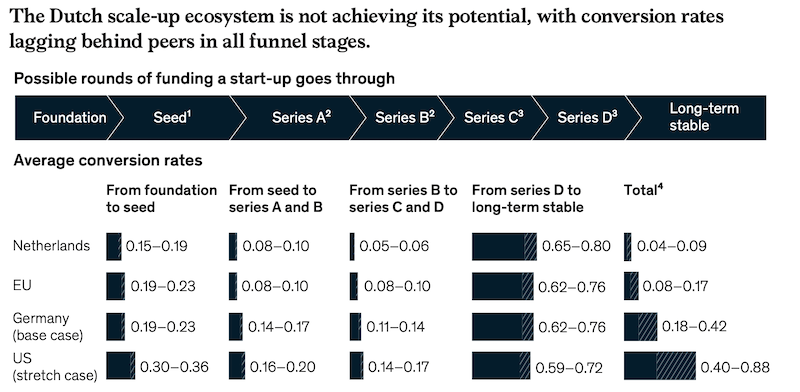 There have been many initiatives in The Netherlands to help early stage startups, often covered on StartupJuncture: Rockstart, Startupbootcamp, YesDelft, Leapfunder, Accenture Innovation Awards and NewVenture just to name a few. There are also many investors able to help startups with series A and B funding. There are however not enough series C and D funding rounds. Startups struggle to raise large rounds and are thus limited in global growth. This could be influenced by the small home market. Perhaps Dutch startups should aim more towards the USA, as one founder quoted in the report states: 'If you ask an Israeli entrepreneur what their home market is, they answer that it is the USA. This should become the Dutch mindset.' Such approach however also comes with risks: for some businesses it is probably safer and cheaper to focus on The Netherlands.
What can be improved
The report recommends three broad actions:
Target specific demographic groups to increase the number of new startups. Specifically, support women and people with a non-academic background.
Help startups scale, for instance by attracting top talent and make more capital available for later stages. People interviewed by this study are concerned that not enough startups grow into globally competitive companies.
Ask educators, legislators, venture capitalists and founders to embed international entrepreneurship further into Dutch institutions and culture.
Further details on how this can be done are listed in the 24 page report. It can be downloaded here: Building a world-class Dutch start-up ecosystem
img src: Ermir Hoxhaj via Unsplash (Dutch delta works). The McKinsey report was made in a very serious style with few illustrations, so we decided to pick a large Dutch endeavour as an example of the kind of scale-up activity that we need.