Yesterday was demo day for the class of 2019 of the Startupbootcamp Fintech and Cybersecurity accelerator program. Twelve startups gave exciting pitches and announced their latest successes on a Jungle-themed stage at Rabobank Utrecht. The demo day demonstrated the successful transition that Startupbootcamp has made from local programmes to themed programs: It was great to see a truly international class of startups working on related problems. The value of the program to these startups was also clear: most startups announced a support or customer deal from program sponsors like Comsec, ABN Amro or PGGM.
Demoday impressions
Startupbootcamp has grown up and current demo days are well-rehearsed impressive shows. The timing was impeccable: the program started and finished on time, there was a good mix of startup pitches and other speakers, and ample time before and after to meet the startups.
Since the demo day took place on Valentine's Day, 'love' and matchmaking were important themes.  Program Director Michael Dooijes took this matchmaking mission quite literally on this Valentine's Day: he brought a bow and arrows on stage and hoped to further fuel the 'love' between Dutch corporates and these international startups. For Michael this was the last program as Program Director: after three years he will take a small step back. Joost Bergen will be the Program Director for the next three editions.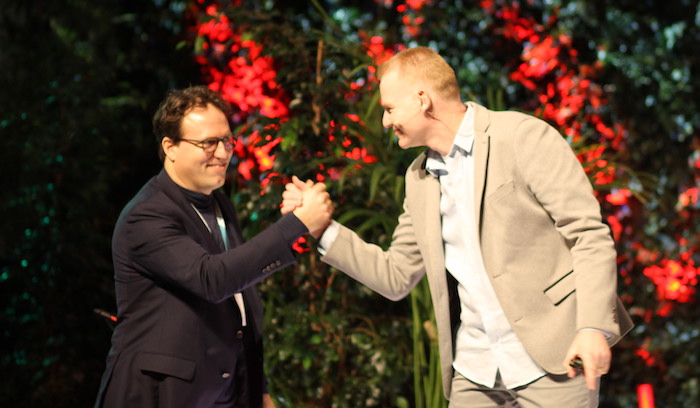 The startups
The following is a list of all startups that participated in the program, in alphabetical order.
Bita – Frankfurt Through state of the art technology, BITA provides enterprise-grade indexes, data and infrastructure to institutions operating in the passive investment space.  Investment fund costs will be drastically decreased by having better index data, and that is exactly what Biota provides. Bita has closed deals with IG and Achmea, and is currently raising funds. 
Bits – New York. Bits is an investing technology company committed to making millennials the most investment savvy generation in history. . Currently, Millennials are the least invested generation. Bits will stimulate people to invest by linking investment to spending: Bits will give you stock for free. It is funded by brands that want to reward loyalty. Bits helps brands convert customers into shareholders. Bit is SEC approved. Private app releasing today, public app later in 2019. 
Cobertoo – Madrid. Cobertoo is a People to People insurance model where we insure our smartphones amongst us. The pitch of Cobertoo started with a shocking fact: most millennials prefer going to the dentist over discussing insurance. Cobertoo wants to offer a better experience, using mobile technology and a model where money is given back to users and social causes. Their first product is insurance for mobile phones, since many millennials do not own cars and houses anymore. 
Cybercentric – New York. Within hours of installation, the CyberCentric platform identifies every device within your network.  The CEO of Cybercentric is the scale-up in residence, but he was unfortunately unable to attend. 
Fortifydata – Atlanta. FortifyData is a cyber risk analysis platform for identifying and monitoring business cyber risk exposure.  Fortify assesses all three layers of cybersecurity: people, processes and technology. 11 businesses are already using it in just 5 months. As a result of startupbootcamp, PGGM is a new customer. On stage, Fortifydata received one of the first 'ScaleUp Qualification' awards from CapGenmini.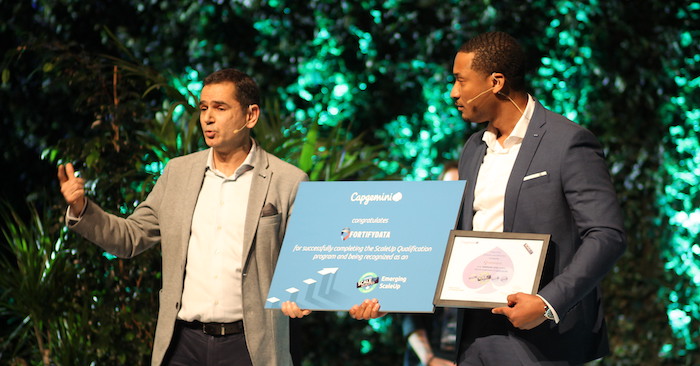 Keep Warranty – Portugal. 'play it safe, keep all your warranties in one place'. Keep Warranty is an app that saves your purchase slips and warranties, reminding you when they're about to expire.  The CEO was motivated by a broken playstation to fix the problem of not being able to use your warranty. They are working on a new product together with ABN Amro open banking. 
Lifas (no website yet)- Netherlands. Lifas is a an online platform where people can quickly check and handle what needs sorting out for different life events. It is created by and for millennials. Despite not having a website, they have raised interest and closed partnership with important Dutch organisations that want to support financial decision making.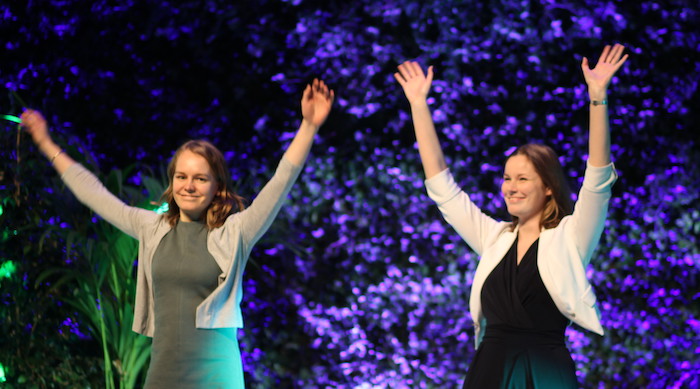 Onionfive (OQUPIE) – Seoul. OQUPIE is an online customer support platform where communication between global customers and companies is managed in a single space. . AI is used to provide high quality customer support. AI is used to recognize intention and emotion, and provide suggested answers to the support agent. To get the data needed, OnionFive offers a freemium model where all customers get acces to a limited feature set for free. The first pilot customers are Pernsioenfonds Horeca Nederland and Comsec. 
Refundme – Spain. RefundMe is a platform that digitizes the VAT refund process not just for tourists but also retailers, airports, and governments. It is powered by IoT. When you buy a product, a QR code is attached to the product and an RFID chip is attached. This code is scanned automatically at the airport. Refundme is raising funds via a convertible note offering on Leapfunder.  
Robolab – London. RoboLab is the app store and Software Development Kit for financial robots powered by Artificial Intelligence. The company is founded by two brothers Luca and Stefano. 
Soisy – Milan. Soisy is an Italian Payment Institution offering installment payments at point-of-sale (POS), financed via marketplace lending. If you buy an expensive item in a store, such as a couch, you can pay in installments. If you buy it online,  paying in installments is often not offered as an option. Soisy broke Italian crwodfunding records by raising more than 1 million euros in 8 days.
Swascan – Milan. Swascan is the first Cloud CyberSecurity & GDPR Platform. It is a combination of source code scanning and other functions to help companies with GDPR compliance, that started over a plate of Italian pasta.