The World Startup Factory is a startup accelerator located in The Hague and profiles itself as an Impact Accelerator. Therefore they selected 10 startups active in 5 impact-driven fields.
Accelerate to make impact in the Dutch economy
On December 12 the 10 startups presented themselves to the public pitching on stage at The Hague Tech Building. They operate in the fields Smart City, Health & Ageing, Security, Smart Building and Mobility.
The World Startup Factory program is a creation and partnership of The City of The Hague, The Hague Security Delta, Health Valley Netherlands, SPIE, KPN and various smaller, local and even international partners. Key partner is the Impact Economy department of The City of The Hague.
Applications from all over the world
Amongst the startups who applied, there were startups from almost every continent except and the final candidates are a nice international mixture from Singapore, Canada, Ukraine, India, The Netherlands. For startups The Netherlands are seen as a great place to start and roll out throughout Europe.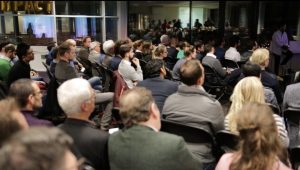 The 10 participating ventures in World Startup Factory
For all of you who weren't attending the event in The Hague, we still like to introduce you to the 10 final candidates participating in the first round.
1. Clensta votes for innovation in personal hygiene with no need for water. The Indian startup focuses on products with 'Accessible Personal Hygiene'.
2. At Decibel.LIVE, monitoring noise pollution in a secure, private and fully decentralized communication system are their core. Monitored and stored securely on IPFS, they deploy sensors that automatically form a local mesn network to capture and compute the average sound level in dB(A).
3. Startup YazamTec designed s smart mobility solution for parking to tackle the related urban challenges. While drivers are looking for a vacant parking place on street, they will typically slow down and circle around. This is the main reasons why parking seekers creates traffic congestion and urban pollution, where Yazamtec jumps in to solve that.
4. Evalk's product is an AI software, which allows deaf people and any other speaker of sign language (ASL) to be heard, by translating ASL to English. It involves building video recognition technology, based on recurrent convolutional neural networks – for translating video (of ASL speaker) into text. The final product is an app that will use a phone camera.
5. GIBBON provides you with the inventory for your travel needs. Simply choose, add and you are ready to go. GIBBON currently offers two services: Merlion City to inbound travellers coming to Singapore, and Beyond the Equator to Singaporeans heading to temperate countries. We have been conditioned to believe that packing/unpacking, queuing at winding check-in counters, and lugging a heavy luggage around is part of the process of travelling, but it is not anymore thanks to them.
6. ModelMe3D bridges the gap between the challenges of rapid urbanization and the need for more direct involvement in our cities. ModelMe3D provides a 3D interactive modelling platform that transforms buildings, infrastructure, natural environment and future projects as "click-on" 3D objects revealing levels of detail.
7. My Clean City let's you communicate directly with your local municipal responsible and directly report issues. Also you can notify your neighbours to prevent pollution and tell them the containers are full. To create a strong community, participants can collect GreenPoints in exchange for rewards and simply connect with your neighbours with My Clean City by sharing events and exchanging items via the app.
8. Organic Love's mission is 'To make food healthy again with the same and better taste'. Almost everyone has mayonnaise at his refrigerator but is it healthy? Organic Love solved this problem by reducing oil in the mayonnaise up to 70% end replacing it by healthy ingredients. Organic Love's innovations created 5 healthy options made of vegetables made by Michelin 3-stars chef. Soon, you will be able to find the mayonnaise in the supermarkets.
9. QdepQ created a way to transform your pictures from 2D to 3D in just a few seconds. For example, Charlie Chaplin movies, Instagram, Facebook or Tumblr content now in 3D! QdepQ is a startup company of the Delft University of Technology in the Netherlands, aiming at bringing 3D viewing technology into everyday life. It is their belief that, just as color TV displaced B/W TV in the past, 3D Cinema, 3D TV and auto stereoscopic (without glasses) 3D screens will eventually enter our daily life. With their patented system, generating 3D content is easy for still pictures, video, and cinema.
10. Qlikchain is a new age digital technology company specialising in blockchain solutions for business and consumers. Under the hood of the Qlikchain brand are a suite of products for Real Estate, Supply Chain Transparency, Academic Credentialing and Citizen services. Qlikchain provides Blockchain as a Service (BaaS) on mobile & web platforms to any company or individual to digitise contracts and manage & trade assets on Blockchain. The team is now working with Dutch flower suppliers to show and ensure the transparency between the farmers and the sellers.
We're wishing all 10 participants best of luck and we're hoping to see their impact at least in the startup industry rather sooner than later.
"It's great to see that our aim of quality over quantity worked out well for Impact Accelerator #3. We have onboarded ten very interesting startups. It's remarkable that more and more startups approach us for support and advice outside the official application period. We know that startups are not seasonal fruits; they need support all the time, the whole year long. Therefore we have recently developed a so called fast track program," – says Egbert Ottevanger, Co-founder World Startup Factory.
World Startup Factory created a video to introduce themselves.

Photo credits: Pexels/Pixabay and Orville Schenkers.