The afternoon session of StartupFest Europe continued with keynotes from Alphabet's Eric Schmidt being critical about EU-legislation, a panel discussion on the European startup ecosystem and Travis Kalanick of Uber. The latter gave the audience his own 'geek guide' to become an entrepreneur': "Find something broken."
Eric Schmidt on EU-legislation
"It's too difficult to start and scale-up a company in Europe, mainly due to government policies", Eric Schmidt of Google's Alphabet said on stage. Pointing to the 'gazillion' rules. "Governments say they will adapt legislation, but most of them don't."
Google's venture capital fund has also started to invest in Europe, but 95 percent of investments are still made on other continents, Schmidt emphasized. He thinks there's too little investments in tech universities here, apart from legislation.
"We hire loads of Europeans, because there are too little startups here. It would be good if there were more."

Healthy ecosystem
Mattias Ljungman of vc-firm Atomico thought a little differently: "2015 was a record year for Europe. There is a healthy ecosystem here", he said during a panel discussion with Panel Reshma of Seedcamp and Carmen Bernejo of Tetuan Valley.
All agreed upon the important role of different startup hubs in keeping this ecosystem healthy. To improve the startup climate, different hubs from different EU countries should work together more extensively.
Rutte
Prime minister Rutte replied in his keynote that the EU should press towards a single EU-startup agenda. "The Netherlands introduced a startup visa recently, let's make this a European one", he said. "When you set up shop in The Netherlands, this should be a gateway towards all European consumers."
Uber
Travis Kalanick of Uber chose inspiration over talking, with a keynote on how Uber got big – from a true entrepreneur's perspective: his 'geek guide' of how you can do it too.
He also launched Uber Pitch, enabling anyone who aspires to be the next Hasso Plattner, Invgar Kamprad, Niklas Zennström or Daniel Ek to try pushing a button and getting a ride with a top local investor.
"Find something that is broken and make an amazing solution", was one of Kalanick' main lessons, pointing to him and his co-founder not being able to get a cab in Paris some time ago. "I just want to push a button and get a ride", his co-founder replied.
"In the end, if you can give people time back, joy or money you create magic", the co-founder said about creating amazing solutions. And Kalanick never gave up: "I heard no for an answer, one hundred times a day for four years. Be analytical and creative. Learn how to code at a young age."

Kroes says goodbye
Startup Fest started on Tuesday with Neelie Kroes and Apple CEO Tim Cook. Henk Kamp, minister of Economic Affairs announced that Prince Constantijn will be the new startup ambassador, replacing Kroes.
"The startup mindset is like jet fuel", Kroes opened. "Innovation is the future and startups are rocketing towards it. You are out of the ordinary, bringing imagination towards the table." And, of course: "The Netherlands is now the number one startup hub in Europe", she said.
Tim Cook on The Netherlands and entrepreneurship
After sitting down with Neelie Kroes, Cook talked about iOS and apps. But also about startup culture today in a much wider sense: "If you are a young entrepreneur, you are no longer selling in your own street. You are selling to the world, so you have to understand different cultural nuances. Therefore immigration becomes important – you got to have a country that embraces diversity."
"I feel a vibe here in The Netherlands that I haven't felt in a long time, a positive vibe that the future is better than the past. I sense a great future for Europe, if some barriers are taken away", Cook said about the startup climate here. "Also, there's still appreciation for the liberal arts here. Which is important, because that's where the magic comes from."
About privacy/FBI: "Company's should have values just like people have souls. Apple chose stand up for issues like environment and education. And we believe in privacy as well", Cook said about not disclosing information to the FBI recently.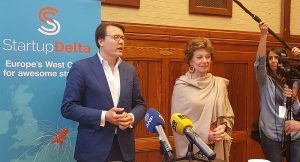 Do it for love
Great advice for startups: Kroes asked Cook how to stay on top of market. "Don't get full of yourself. Also: don't worry about cannibalizing yourself. At some point you might begin to worry about your products, killing other products. And then you just keep compromising."
"You got to be hungry. Never start your business strictly for money. You got to do it for love and passion, not for the green."
Great energy, great entrepreneurs at @startupfesteu this morning. Amsterdam, dank je wel en tot ziens! pic.twitter.com/XVJY4DKAlZ

— Tim Cook (@tim_cook) May 24, 2016
StartupJuncture will report from StartupFest Europe all week. We will be present at a lot of (the over 30) events throughout The Netherlands, including the opening on Tuesday, TNW, Campus Party and The Future of HighTech in Twente. Stay up to date on the latest via our recap reports each day. Questions, cool photos or suggestions? Just Tweet to @StartupJuncture.
Main image: Suzanne Blotenburg / StartupJuncture (CC BY 2.0)