Blendle, 'Dutch iTunes for news' received new investment rounds one year after launching in the USA. Japanese investment fund Nikkei, since last year owner of the British Financial Times, and Amsterdam-based fund INKEF Capital showed their support to the digital kiosk that's supposed to change journalism. The amount of the investments was not disclosed.
Blendle was founded by Alexander Klöpping and Maarten Blankesteijn and received funding from The New York Times and Axel Springer in series A in 2014 at a 13 million euro valuation.
Klöpping: "The New York Times and Axel Springer are shareholders in Blendle already, and it makes me very proud that a third innovative publisher, as well as tech investor INKEF Capital, now put their weight behind our company."
Premium trials and company changes
Klöpping strongly beliefs in payments per consumed story and it seems like in Europe this business model starts to grow popularity. In the U.S. Blendle was received with pessimism as readers there are used to consuming journalism for free. One year later U.S. has over 60.000 users, compared to 1 million users worldwide. In the meantime, NRC stopped their collaboration because the revenue wasn't high enough and they prefer full subscriptions rather than article clicks.
At the moment the platform is testing a new feature, Blendle Premium, in the Netherlands. The serves offers a personalised selection of 20 articles a day for €9,99 a month. If the trial becomes a succes, an international roll-out is considered.
Blankesteijn is leaving the company to focus on a new role in his life, he becomes a father and combining a family and Blendle seemed impossible for him and after 6,5 years he likes a new challenge. There are approximately 80 employees working, mainly from their headquarters in Utrecht.
Blendle hasn't stated where the investment is used for.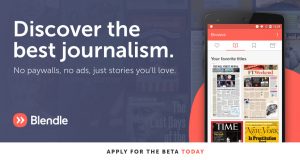 Image courtesies: Blendle