Today is the soft launch of the e/d/t/Global foundation, initiated by serial-entrepreneur, investor and emerging technology enthusiast Ton van 't Noordende. We spoke to him about the idea behind it.
About e/b/t Global
Ton, you are one of the most active people in the Dutch startup community, as an investor at Keadyn, founder of Angel Island and much more. Why start a new global foundation?
e/d/t Global stands for Emerging Deep Tech. There is so much going on in the tech scene these days. Emerging technologies are fundamentally changing the way our society operates. Decentralization, machine intelligence, ubiquitous automation of work and industries and so on.
It's impossible to keep track and stay informed about everything on a daily base, but startups and entrepreneurs should be able to keep informed about the next big thing, the truly ground-breaking technologies. Pioneers get lost in the enormous web of events and don't know how to get in touch with the right people. With e/d/t we like to create a community where pioneers will have early access to new innovations, knowledge and the people behind those revolutionary technologies. My main goal with the foundation is to bring the right people together so that we can skip the hurdles that are typically there. It's tough to assess the impact of AI for example – so what I'm seeing today is that pioneers are struggling to find the right partners that actually get what they're working on from a foundational level.
We all know about the World Economic Forum and how it's super hard to access it. They're trying to open up, but for me that's too little, too late. I want an accessible environment, a healthy ecosystem for people who are into technology.
For who is the foundation?
For pioneers, entrepreneurs, young talents who are into technology and are already a step ahead of the crowd. The goal is to connect them to key players, incumbents in their respective markets and to provide them with access to the public sector as well. Early adopters are facing lots of struggles explaining what they do, what the use of their technology is and often struggle with taking it to the next phase. The E/D/T foundation should be the place where those pioneers find each other and help each other. Money is definitely not what people need – although many focus on that particular part. Knowledge and like-minded people are.
How do you become a member of the foundation?
I'd like to see different layers in society, so not only entrepreneurs from successful companies in established tech hubs like Amsterdam or Berlin, also a young developer from the countryside, or maybe a former engineer who is now retired, but still willing to learn and share. 'Ballotage' is based on mentality and mindset. People who are open minded, connectors, game changers. You can be revenue driven, but money shouldn't be the purpose. A shared interest in emerging tech, that's what connects us.
For this event we had 192 speaker requests. We've profiled everyone to make sure there was a perfect fit with the E/D/T ideology, the technology, the audience and the speakers. And I'd like to see more women. From the 192 speaker requests, there were only 12 women. I'd like to see an equal participation. Hopefully e/d/t/Global can make a difference here too.
How did you select speakers?
Mainly on their vision and expertise, not on the company name behind it. For example Bancor's Galia Benartzi, she has an incredible vision on the future of blockchain and the impact it wil have on society.
e/d/t/Global is a foundation you've funded yourself. How are you planning on financing this in the future?
At the moment I'm financing the foundation myself. I strongly believe in the impact it can have on society and that is what motivates me. I've been lucky to connect and meet with so many inspiring and powerful individuals over the last few years, now it's time to give back. We will start fundraising and apply for subsidies to activate and stimulate the community. And of course we're always open for partnerships. Like our venue partner TQ today.
You've traveled to 36 counties in Europe over the last months, what did you see they were doing differently from Amsterdam?
What I've noticed is that everyone is trying to re-invent the wheel, which is a waste of precious time and resources. The foundation is a global initiative and it's built too help stimulate a transparent eco-system, realise faster development times, shared resources. I'm most excited about the Nordics. Now it's time to see if we can get other societies up to that same level.
What can people expect of today's event?
The program starts at 16.30 at TQ in Amsterdam, kicking off with a 90-minute workshop explaining all about bitcoin and blockchain. Afterwards we have an impressive line-up of speakers well-known in the blockchain scene. Toby Lewis (Novum Insights), Galia Benartzi who I mentioned before, Piers Ridyard (Radix). Following there will be a panel discussion with panellists sharing their opinion on when blockchain will reach the critical mass.
People who know me, also know I like informal networking over drinks a lot, so we'll finish with that. We've made sure we've invited key startups, entrepreneurs and innovators from the industry, like that have just started to disrupt status quo, like legalthings.io, Bloq.house, Viacoin & Katalysis.
Tickets and more information can be found here
The talks and panel can also be followed via livestream if you cannot attend in person.
About Ton van 't Noordende
Ton is partner at Keadyn VC – a seed stage VC from the Netherlands. Next to that, he's Investor in Residence at StartupDelta, working closely together with HRH Prince Constantijn, on a mission to break open the European investment scene. He's an advisory board member at Amsterdam Capital Week and part of the Exec Committee of Capitalfest.co).
In 2017, he travelled to 36 cities in 10 months time meeting with key influencers in the tech scene and trying to discover 'the secret sauce' & the 'origin stories' of those respective cities. He's been talking to founders, toptier VCs, superangels & community leaders in order to get that firsthand knowledge sharing going.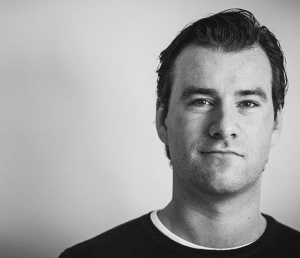 He just launched e/d/t Global, an independent foundation built ot facilitate the pioneers in emerging tech (AI, blockchain, nano bio and other key technologies).
Ton also founded Angel Island last year with the purpose of connecting the unconnected. He rented an island near Amsterdam in 2016 & 2017, some tall ships and got together a curated group of 200 angel investors & 200 early stage founders and 'locked' the island. No pitching allowed, no keynotes, no name tags and a strict "zero asshole policy". The idea was to level the playing field and meaningfully connect these two groups.