Merkspace, a leading startup-incubator/co-working space from Israel, is coming to Amsterdam. On July 1st they are opening up a new monumental building at Herengracht 499. Here they will offer flexdesks and offices for about 250 people and also host community events to connect Israeli and Dutch founders. We interviewed Merkspace founder Sapir Shpigel and local manager Pepijn Middeldorp about their ambitions and decision to come to Amsterdam.
The Merkspace concept
Merkspace was founded to support and connect startup founders to mentors and investors. It is run as an office space firm: Merkspace earns money by renting out office space to startups and startup-friendly freelancers. On top of the office space, people get access to a network of mentors and experts, events with international speaker and can connect to the other members of the community. Unlike pure accelerators (such as Startupbootcamp or Rockstart) Merkspace does not take equity from startups and does not invest in the startups. They don't have fixed programs, but tailor-made programs, based on the specific needs each startup has. Startups can use Merkspace in order to prepare for acceleration, or as a longer term alternative.
Merkspace is a young initiative. It was founded in 2015 by Sapir Shpigel together with her father. During an unsuccessful startup adventure while in college (an online dating app) she noticed she could have benefited tremendously from more contacts in the startup community. Together with her father, who has plenty of real estate experience, she decided to create the space she would have needed by opening up a large startup-oriented office space in Tel Aviv. The first center opened in spring 2016. Soon after launch they looked at international expansion. "One of the core strengths of the Tel Aviv startup community is it's international connections." Says Sapir. "Israel is known as the startup nation because Israeli startups are successful at attracting investments from China, US and many other countries, allowing them to pursue global ambitions. The Netherlands has a thriving startup scene, but Dutch startups are held back by the lack of International investor connections and lack of a global perspective. By bringing the Tel Aviv community and mentality to Amsterdam we think we can add something to the Dutch startup ecosystem". (editor's note: for examples of Dutch/Israeli startups, look at ProctorExam, Quicargo or Relevancydata)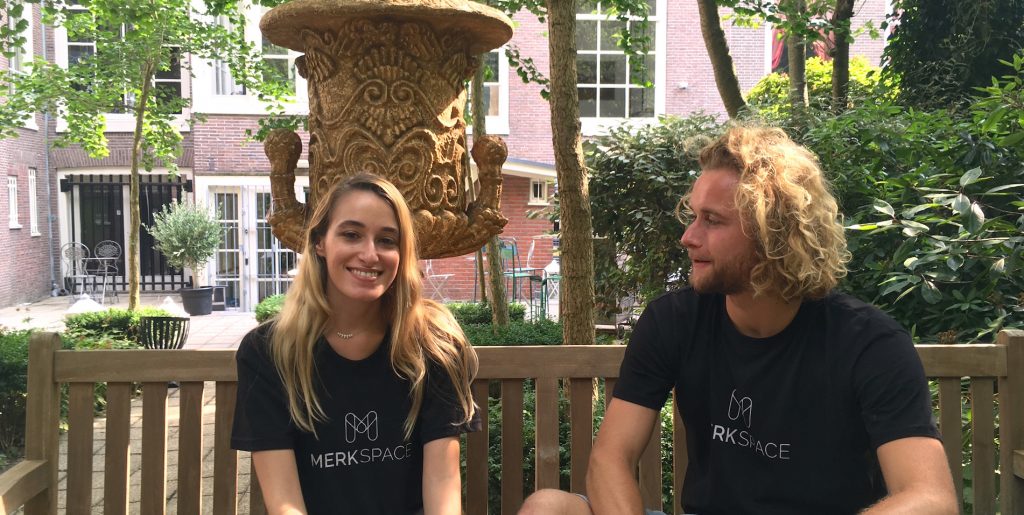 The new building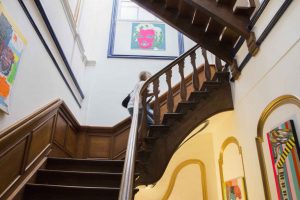 Merkspace decided to go big with their first International office: they rented a huge, historic Dutch canal house and renovated it completely while keeping the historic details as is. "Based on my family's experience in renovating buildings, we asked a local architect with experience in renovating historic buildings to design the new interior." The result is an odd mix a 17th century details, modern glass walls and lots of art.
"It took us 11 months to find the right building. When scouting for a new location, we think of the Merkers community and what would be the most convenient for them. The location must be central, with easy access and great transportation & restaurants around. When something is not "Merkspace standard" in a certain location, we create it to be. For instance, transportation in the Amsterdam center can be difficult. For this location we made sure to have some electric vehicles and bikes available for our Merkers to solve this problem."
Why Amsterdam
"After opening and expanding in Tel Aviv, we looked at several cities including Athens and Amsterdam. A key factor for coming to Amsterdam are the fact that Amsterdam has a thriving startup scene, so that we create a fruitful bridge between the Dutch ecosystem to the Israeli startup nation. It also helps that it is very pleasant to live and work in The Netherlands. Many Israeli founders appreciate the fact that they can cycle to work. we met several times with the city of Amsterdam, including local wethouder Kasja Ollongren, local VCs and the team from StartupAmsterdam and were also supported by Allenby, our marketing agency with offices in Tel Aviv and The Netherlands."
Comparing Merkspace
Merkspace is probably one of the first startup connectors between Amsterdam and Israel, but they are not the first startup office space location: Dutch startups can choose from a wide range of lcoations/networks, both in Amsterdam (B. Amsterdam, Rockstart, Spaces, WeWork, Startupbootcamp) and nearby (Utrecht Inc, Yes!Delft, ECE). How is Merkspace different?
"For our office space, the focus is on quality. Our motto is "love where you work from". We try to provide this in this building in our beautiful garden, with different levels which all have something unique to offer, and many free-to-use meeting & chill rooms.
In the end however,  we are not just an office space. Our members consider Merkspace as a part of their team. We help companies grow, develop, raise funds, recruit, penetrate to new markets and acquire new customers. We are really active and are looking for business opportunities for our members within our network.
In the last year, we raised 3.7 million dollars for our startups and made more than 9k business connections for 150 companies that are based at Merkspace.
There will be monthly speakers, entrepreneurs who made exists coming and telling their story, experts from TLV, talks, panels, workshops and inventors breakfast with our members, with no additional costs at all to our Merkers. We are currently busy with talking to import initiatives in Netherlands and see how we can be not only a part of it but also definitely contribute."
Do you focus on specific startups? Which ones?
One of the best parts of Merkspace is having a diverse community of entrepreneurs. We have startups at any stage and from a variety of fields such as Fintech, Cyber, AgroTech, FashionTech, Smart cities, VR\AR and more. We also have in our community a variety of service providers and freelancers that are benefiting from the access to potential customers in our community.
Regarding a more specific focus, Olympia Zone @ Merkspace is a unique, one of a kind program for Startups in the Sports Innovation sector. Olympia Zone was founded by the former Israeli football player Avi Nimni, the former Chelsea coach Avram Grant, the French Sports company S.V.F Foot, Base Soccer Agency and more influences from the Sports and Technology sectors. The startups are provided with worldwide connections and access to the largest stadiums, teams, and corporates. Olympia Zone provides them with business development and leads them to close international deals.
For those who are interested in penetrating to the Asian market, we have another program, powered by StartupEast. Only 2 months ago we sent a delegation of 10 founders from our community to explore China, meet with potential investors, customers and even the government.
What was the greatest challenge so far?
Pepijn: "We have had no major setbacks yet, but making the building ready on time is a huge challenge. I joined Merkspace only a few months ago, when they needed local assistance in making the building ready. Sapir and her father wanted to open for business quickly, so we set ourselves a deadline of July 1st 2017. As we speak (June 20) some work is still being done but most of the spaces are ready and we will be opening as planned on July 1st. We have about 20 startups moving in in the first month and room for some 15-20 startups more."
Advice for startups
What advice would you have for Dutch founders based on your experience?
It's all about the team. Pick a great and diverse team and surround yourself with great leaders and influences that that could open a door for you and connect you to the top professionals in your field. This is what Merkspace is all about.
Note: MerkSpace would like to have startupjuncture readers as new members and has informed us that they are happy to provide one extra month free by committing for a month only. You will get it automatically by filling in your startup details here: https://www.merkspace.com/amsterdam/