The Amsterdam-based startup GUTS benefits the Dutch Senate rejecting ceiling legislation that would limit mark-up on resale of concert tickets.
Why legislation helps GUTS
A law 6 years in the making with the intention to limit reselling of event tickets was diluted on October 24, to the point it became obsolete with the help of lobbyists, ensuring that resellers can continue to make a profit off buying event tickets in bulk and reselling them for profit.
The law was intended to control the amount by which a ticket can be sold on the secondary market. Ticket resellers typically buy in bulk and resell for up to 10x the original ticket, with no revenue being passed back to the promoters and artists. Implementing a price ceiling is a common government practice, as a way to shrink profit margins, thus helping event organizers to maintain stable pricing, as well as ensuring that fans have an opportunity to see their favorite performers at the price originally set by the artist.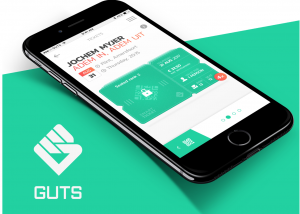 Farewell to ticket fraud and overpricing
Without legislative protection, artists, promoters, and event organizers continue to have almost no control over the secondary market for their tickets. Predatory resellers, also referred to as 'scalpers,' can continue to take advantage of this arbitrage opportunity, shifting the market for an artist, and edging out fans. When the announcement was made that the law would not go into effect in its original state, GUTS announced their ICO and GET (Guaranteed Entrance Token) coin, and raised over 2.5 million dollars since their pre-sale opened on October 25. The company expects to raise another 17 million dollars when the ICO officially commences on November 15th, 2017.
"We have opted for an ICO because we can utilize the added value of blockchain with our own cryptocurrencty without our users having to understand the blockchain and cryptovaluta ànd we can control who uses the GET protocol. Additionally, it's a great way to put us on the map internationally and to raise capital without losing control" says Maarten Bloemers.
GUTS is an all-in-one ticketing platform that combines the primary and secondary ticketing market into one experience for event organizers and ticket holders, eliminating price gouging, and returning all revenue to producers. The company was started in 2016, using blockchain technology and cryptocurrency on the backend. GUTS is projected to sell over 1 million tickets through its platform by 2019. Read more about the technology behind GUTS.
So lack of clear legislation can be an opportunity for startups.
Photo credits: Pexels/Kaboompics