Voicey – The first influencer marketing platform with an on-the-go app, received funding from pro-footballer Gregory van der Wiel and his investment fund Block Party.
During the course of a year the platform has been developed and thoroughly tested by a select group of influencers and brands. Voicey is now ready to conquer the world. In addition, Voicey has announced an exclusive partnership with the leading millennial consultancy agency Kult&Ace.
The founders of Voicey, Roderick Adang and Eelco Guntlisbergen about their platform: "We are not an agency but a digital platform that has a mission to make influencer marketing easily accessible, more efficient and cheaper for both brands and influencers." Says Roderick concerning the concept. "That is why we have developed two platforms, that work together in perfect harmony. A web-app for brands and corporates and a mobile app for influencers.
The one and only influencer marketing platform with end-to-end mobile app
Exceeding 600 handpicked influencers in their database, Voicey is the only platform that facilitates influencers to receive deals as they are on-the-go. A highly time saving improvement within the influencer business, for both brands and influencers. As an influencer there is no longer the need to battle with other influencers to get yourself a spot in a campaign. "Ping!" a brand has send a collaboration request and the influencer receives a push-notification on his or her phone. Now it is up to the influencer to accept, decline or counter the offer that was send by the brand. This is all happening whilst brands on the corporate platform are offered real-time data and insights concerning their campaigns in order to evaluate, adjust and optimize their campaign efforts.
Continuous optimizations
The platform has been developed according to the "lean" strategy, this way Voicey is able to keep an open-minded vision towards the product. "After completing a pilot last October, we have used all feedback and we went back to the drawing board to optimize the platform." States product owner Eelco. "By listening carefully to our clients, we are able to shift and move faster than others in the market. The current product is a perfect example of a frontrunning product. This is only the beginning."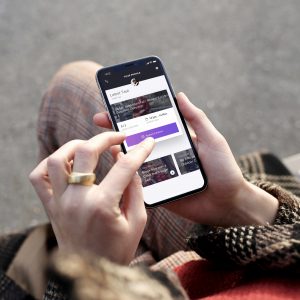 Exclusive collaboration with Millennial Agency Kult&Ace
Despite the fact that it is as easy as can be to get started as a brand on the Voicey platform, it is always possible brands need creative support. That is the reason Voicey has entered a partnership with Kult&Ace. "As experts in the field of millennials, we know how successful influencer marketing can be. Therefore, we have been actively involved in the development of the platform and from now on we will be available to assist brands in creative concepting of their (influencer) marketing campaigns through the Voicey platform." States founder of Kult&Ace, Melanie Bosveld.
Voicey as end-to-end influencer marketing solution
Voicey sets itself apart from the others in the business by the fact that everything, really everything, from collaboration requests to payments and data reports, are being taken care of by the Voicey applications. Voicey is an end-to-end influencer marketing solution. This start-up with passion for product and design, makes it possible for any business, big or small, to enter the world of influencer marketing and integrate it in their marketing mix. Block Party is not the only investor who jumped on the influencer marketing train, in December 2017 Join received funding from Airbridge Equity Partners.
Editorial note from Sabine:
For my personal platform, Your Ambassadrice, I've been working together with various influencer marketing agencies and platforms over the past years. Recently I got my first campaign via Voicey and yes, that was while I was sitting in a train, Instagramming my time away. Perfect moment to quickly respond to a possible collaboration. I've met Roderick two years ago, when the platform was just an idea and a basic demo and at that time the added value of the on-the-go app got to me. There is an interesting market and opportunity for investors. Every brand needs ambassadors, whether you call them influencers, early adopters or VIP's, they are bridging the gap between you and a larger audience. If I were a seed investor, I'd keep an eye on these platforms.
To clarify: Voicey didn't pay me for publishing the article, it's a trend in investor land worth sharing. Two years ago Evan Nisselson and various other investors mentioned the persons behind an idea, the team and its personalities, become more and more important for them. To me, this proves the importance of personal branding, for both investors and influencers. Gregory is doing a pretty nice job as influencer as well J